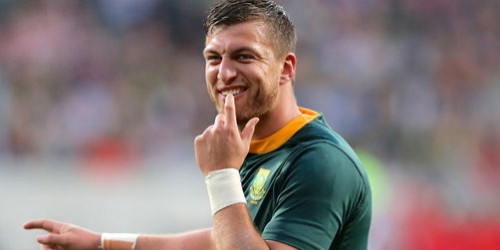 In both their recent wins over the All Blacks and Australia, it was a strong second half effort that secured the victories.
---
Springbok first five-eighths Handre Pollard told media that was something they had been working on ahead of the Loftus Versfeld clash.
"Our defensive efforts have been absolutely amazing, especially in the second halves of both Test matches. It is a bit of a concern, you don't want to be doing that in every Test match so we have been looking at ways to make sure it doesn't happen again, but it also gives us great confidence knowing our defence is solid.
"Attacking-wise we are creating opportunities, we aren't always converting but we are creating those opportunities and that is something we want to keep building on and want to convert a little more," he said.
Lifting the overall performance involved a combination of factors.
"It's a lot of small things, nothing specific that you can put your finger on. It is just being a little bit more accurate, being a little more patient and making a little better decisions," he said.
That was important, especially against a team like the All Blacks.
"They are the best team in the world, so you aren't going to surprise them, you aren't going to do anything a lot better than them because they are good at everything.

Retweet if you know someone who would back themself to slot a 60 metre penalty right on halftime like @DanCarter did back in 2006 ??#RSAvNZL #TBT pic.twitter.com/zv0FnxSqLB— All Blacks (@AllBlacks) October 3, 2018
"Character is a big thing, to play for 80 minutes is a big thing. You need to win those big 'small moments' every time in a game if you are going to win the game.
"Step for step, and you know it will go for 80 minutes so you need to be ready for that."
There was no secret formula to success, it was just a case of working hard and being accurate.
While beating the All Blacks in Wellington had lifted rugby spirits in South Africa Pollard stressed that there was still plenty of work ahead of the side.
"I don't think two wins makes us suddenly the best team in the world. We aren't saying we will beat the All Blacks every single time. We will definitely try and we will give our best to do that, but they are the best team in the world. We are still a team that is growing, that are learning to get to know each other and the coaches, management.
'We aren't under a false impression that we will win everything. But we will try and take what happened in the last two games and take another step forward.
"We're in a positive space at the moment. Two great wins for us. We've been a bit up and down throughout the season so what we are looking for is just continuity and consistency and performing at a higher level.
"So, of course, we're preforming at a higher level. We are in a good space but Saturday is a big test for us. We want to keep that momentum going into the end of year tour, so it is a big game for us," he said.
Putting in the mahi ?? #RSAvNZL pic.twitter.com/momS4Hieyo— All Blacks (@AllBlacks) October 2, 2018