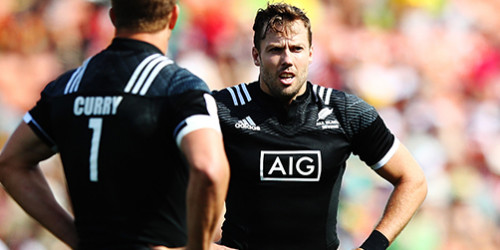 The three senior members of the All Blacks Sevens are the first to commit through to 2020 laying the foundation for Coach Clark Laidlaw's squad.
---
QUICK TAP: NEW SEVENS EVENT IGNITES SEARCH FOR TALENT
---
Scott Curry and Tim Mikkelson co-captained the All Blacks Sevens throughout the 2017/18 campaign, leading the team to Commonwealth Games gold, World Cup victory and third place on the World Series.
Joe Webber's season was struck short with an arthritic infection ruling him out of the Commonwealth Games and the remaining tournaments of the season. The exciting play maker is recovering and set to return to the sevens field next season.
Laidlaw said the three players will form a core base of the squad heading into the next two seasons.
"It's good news for our team to lock in three senior players as we build a squad that can qualify for the Olympics. Having that experience in our group is not only hugely important but hugely exciting as well."
?? Co-captains with the gold! #RWC7s pic.twitter.com/oBfmRgC4lF— All Blacks Sevens (@AllBlacks7s) July 23, 2018
The co-captaincy of Mikkelson and Curry has been a big part of the team's recent success said Laidlaw.
"Both Tim and Scott have worked incredibly well together both on and off the field. They have grown as leaders this season, and they have grown other leaders within our group and that's a big driver of the success we have had."
While Webber's season was curtailed by injury, Laidlaw believes he will be a key component in the All Blacks Sevens going forward.
"He is one of the best attacking players in the world and I don't think we have seen the best of him yet. He's been unfortunate this year with his illness but his attitude in that time has been so positive; he's the heartbeat of this team," said Laidlaw.
?? "Sevens was the sport I fell in love with"

Tag a friend who you think should enter at https://t.co/m5YXEPamQu for their chance to become a sevens superstar! ?????? pic.twitter.com/JNZPu3lLT7— All Blacks Sevens (@AllBlacks7s) July 31, 2018