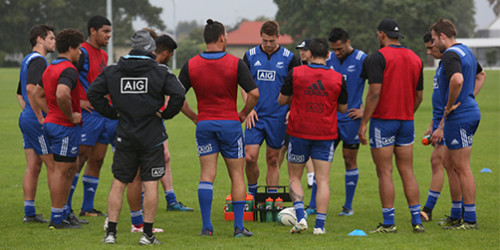 All Blacks Sevens
Scott Curry - Bay of Plenty
Tim Mikkelson - Waikato
Tone Ng Shiu - Tasman
Teddy Stanaway - Bay of Plenty
Dylan Collier - Waikato
Bailey Simonsson - Bay of Plenty
Joe Ravouvou - Auckland
Isaac Te Tamaki - Waikato
Regan Ware - Bay of Plenty
Andrew Knewstubb - Tasman
Joe Webber - Bay of Plenty
Sione Molia - Counties Manukau
An experienced All Blacks Sevens team has been named with Bay of Plenty youngster Bailey Simonsson the only debutant.
"Bailey is a young kid who has come across from league and we are really impressed with him. He has a massive work ethic and its encouraging to see how he's come along," said All Blacks Sevens coach Clark Laidlaw.
Joe Webber and Joe Ravouvou join the team fresh from Mitre 10 Cup commitments while the remainder of the squad has been assembled in Mt Maunganui for the past month.
"This is true pre-season for us, we're a new team and new coaches and we will be coming up against some settled opposition.
"All the players will get game time and we will get to see our strengths and weaknesses. We're interested to see where we are at against some good teams," said Laidlaw.
The All Blacks Sevens play Nauru and Cook Islands in pool play.

After tearing it up in the @Mitre10Cup, who is looking forward to seeing these four speedsters in action for the #AllBlacks7s this season? pic.twitter.com/x78zidl8LC— NZ7s (@nz7s) November 2, 2017
Black Ferns Sevens
Portia Woodman - Counties Manukau
Tenika Willison - Waikato
Stacey Waaka - Waikato
Ruby Tui - Canterbury
Terina Te Tamaki - Waikato
Alena Saili - Otago
Tyla Nathan-Wong - Auckland
Kayla McAlister - Auckland
Sarah Goss - Manawatu
Theresa Fitzpatrick - Auckland
Gayle Broughton - Taranaki
Michaeala Blyde - Bay of Plenty
The Black Ferns Sevens will be looking to continue the success of their 2016/17 campaign and coach Allan Bunting has named a strong, experienced team for the Oceania Sevens Championship.
"It was a tough team to select, that's for sure.
"We see this as the start of our preparation for Commonwealth Games so we have picked the strongest team possible; we want to create continuity in our campaign.
"This tournament will be a good to grow combinations and see how our game plan is working," said Bunting.
The Black Ferns Sevens play Papua New Guinea, Cook Islands and Tahiti in pool play.
The Oceania Sevens Championships is played on 10-11 November in Suva, Fiji. Full draw can be found HERE and follow results on the Oceania Rugby twitter account.