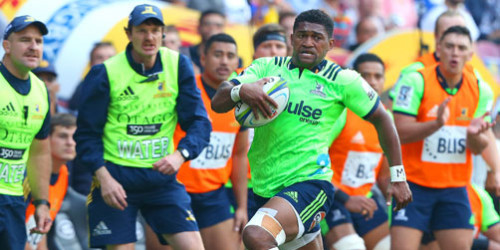 Keeping the best until the last would see the Highlanders respond to a season of frustration due to injuries when chasing Investec Super Rugby playoff hopes against the Bulls in Dunedin on Friday.
Both teams will run onto Forsyth Barr Stadium knowing their seasons are in the balance, but for the Highlanders it is a chance to celebrate the return of blindside flanker Liam Squire for his first appearance for the side this season, and also to give themselves a chance to regain a top eight berth.
---
QUICK TAP: BLUES LEADERS STEP UP FOR REDS CHALLENGE
---
Coach Aaron Mauger said the side chosen was close to the strongest it has been able to field all year, although it will still be without fullback Ben Smith. His return had been touch and go but they decided not to risk it in the overall scheme of the rugby year and the best thing for him and the team was to give him another week.
With Waisake Naholo back in the squad and also wing Tevita Li and forward Jackson Hemopo both back from injury it was a boost for the side before such an important game.
"I don't think we've had our strongest side out on the field at all this year, but we're getting close to it," Mauger said.
Squire was excited about getting his first rugby start for the season and had come through 40 minutes of club rugby well two weeks ago.

????‍???? Who has the best pipes in #SuperRugby? The players have their say on the Breakdown!

Tune into the full episode direct from @SkySportNZ here ???? https://t.co/f1UAzHvAP7 pic.twitter.com/frmYbgeUtm— Super Rugby (@SuperRugbyNZ) June 5, 2019
"We're excited about getting him onto the field and his physical presence is something we're looking forward to," he said.
"There's only one way he knows how to play the game. That's to go forward and to hit things and to hit them hard.
"We're expecting that both sides of the ball. We're expecting his presence and that dynamic will be of huge benefit for us."
Having returned from South Africa disappointed with their results in losing to both the Lions and Stormers, the Highlanders were in no doubt of what to expect from the Bulls.
"The Bulls are pretty similar to both teams we've just played, they're pretty direct, they've got a good 10 who controls their game very well so we're mindful of their strengths. But we want to play our game and impose our strengths on the Bulls and hopefully if we do that well then it will be a good result," he said.
The game will mark the last appearance at Forsyth Barr Stadium for captain Luke Whitelock, who is playing his 100th Super Rugby game, Waisake Naholo and Squire while a special presentation will be made to injured fullback Ben Smith after to the game to mark his contribution to the side before he also heads overseas.
Luke Whitelock will lead the team in his 100th Super Rugby game! Stick around at the end of the game as we've got a preso for Luke AND a special preso for Ben Smith! Fans with be able to come onto the field too!

FULL RELEASE: https://t.co/cgO3A5hX6k#HighlandersANDyou #HIGvBUL pic.twitter.com/E15GC01dHX— Pulse Energy Highlanders (@Highlanders) June 5, 2019