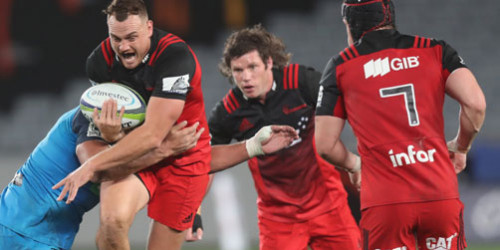 The Crusaders top the points table with 45 points, the Chiefs and the Lions share 42, the Hurricanes have 40 and the Highlanders 38 while the Brumbies and Waratahs have 34 points each to contest the Australian Conference place.
New Zealand Conference
The Crusaders may have the competition lead but they were given a healthy defensive reality check by the Blues in Auckland before winning 26-21. The home team may be on only 30 points, however they provided a defensive test as tough as any at Eden Park.
But demonstrating the cohesion that has marked their season, the Crusaders got three points clear of the Chiefs who had a tough night of it in Sydney, going down 25-45 to the Waratahs. And the Hurricanes got two points in front of the Highlanders with their 27-20 win in Wellington, and within two points of the Chiefs.
Australian Conference
A fascinating contest is in prospect to secure Australian representation in the play-offs. The Brumbies managed an overdue bonus point in their 66-5 win over the Sunwolves leaving them sharing the lead with the Waratahs who beat the Chiefs 45-25. They have 34 points and similar schedules in their last three games. The Brumbies host the Reds and Force and are away to the Blues while the Waratahs are away to the Sunwolves and the Blues while hosting the Hurricanes.
South Africa Conference 1
The Lions did the Stormers a favour by beating the Bulls, 56-20, leaving the Pretoria side four points adrift on 32 points. The Stormers didn't have it all their own way in beating the Cheetahs 31-24. But for the moment they have the advantage to claim a playoffs berth while the African wildcard entry will be a straight contest between the Sharks, who have 35 points and the Bulls.
The Sunwolves were left with plenty to absorb after they were beaten 66-5 by the Brumbies and share last place, on nine points, with the Kings.
South Africa Conference 2
The Lions demonstrated why they have been the best performed of the South African sides, and why they remain a genuine title contender when mauling the Bulls 56-20 in Pretoria at the weekend. Even without dynamic first five-eighths Elton Jantjies, the Lions had the wherewithal to move to 42 points on the table, three points behind the leaders, the Crusaders. The Sharks are in second place on 35 points.
It has been a tough first season for the Jaguares and they will go into the break with only 14 points after their 22-29 loss to the Kings. Discipline is just as important as skill in Super Rugby and that lesson will have been hit home after they lost two players to red cards in the first half and a third to a yellow card for the crucial last moments of the game.