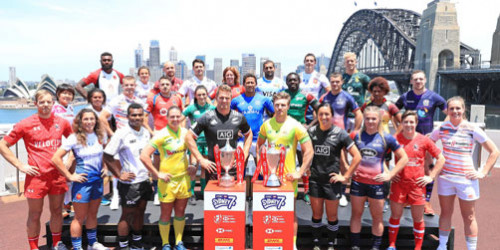 But they believe they have plenty to improve on. Captain Scott Curry said in Sydney on Wednesday the focus for the side was on improving as individuals and as a group.
"We can definitely get better when it comes to our rugby. I think our culture and all that sort of stuff off the field has been going really well and been driving our results," he said.
---
QUICK TAP: FRESH FACES NAMED IN ALL BLACKS SEVENS SIDE
---
Curry said the side had a good week of preparation in Sydney with a warm-up game against Spain the first day they arrived.
After having Tuesday off they had a big day of training on Wednesday with two sessions to be ready for the weekend.
Sydney was an enjoyable place to play the tournament, a big city with plenty to see and a great history while the crowd last year had been 'awesome' during the event, he said.
"Hopefully we'll have a bit more of the same this year."
Some adjustment would be required to the changed format which sees the first game played on Friday evening, two games on Saturday to compete pool play and then the finals play-offs on Sunday.
"That will definitely take a bit of adjusting to, we're traditionally used to playing three games a day so it's similar to Hong Kong where we do the same. You've just go to relax on that first day, it is a long day you don't play until about 7 o'clock at night so there is plenty of time to relax and ease into it," he said.

WATCH ??? Ahead of this weekend's tournament, we catch up with #AllBlacks7s co-captain @Sc0ttCurry for the latest word within the team.

TEAM NAMING: https://t.co/kKmoFdaHsT pic.twitter.com/uoHGX5vhzR— NZ7s (@nz7s) January 24, 2018
The All Blacks Sevens start their campaign at 9.50pm (NZT) against Russia on Friday then on Saturday play Samoa at 6.31pm and Fiji at 9.42pm.
New players coming into the team, Caleb Clarke (Auckland), who will be injury cover in Sydney, and Etene Nanai-Seturo (Counties Manukau) had settled in well, if a little wide-eyed and seeing some players they had only seen on TV before.
'They're good kids and I'm sure they'll go well this weekend if they get a chance," he said.
Luke Masirewa returns to the side for the first time since 2013.
Once again, the tournament will be run on combination with the women's sevens which was something the side enjoyed.
"It's always good in between our games to sit down and cheer on the New Zealand girls and hopefully they can go well this weekend as well," he said.
New Zealand's team is: Scott Curry (captain), Tim Mikkelson, Teddy Stanaway, Joe Ravouvou, Luke Masirewa, Vilimoni Koroi, Sam Dickson, Andrew Knewstubb, Regan Ware, Kurt Baker, Etene Nanai-Seturo, Sione Molia, Caleb Clarke.
The #Sydney7s kicks off on Friday, another huge step towards #RWC7s in San Francisco.

Do you think @nz7s and @BlackFerns will defend their #RWC7s titles in July? pic.twitter.com/WXJXy4QrCL— World Rugby Sevens (@WorldRugby7s) January 24, 2018