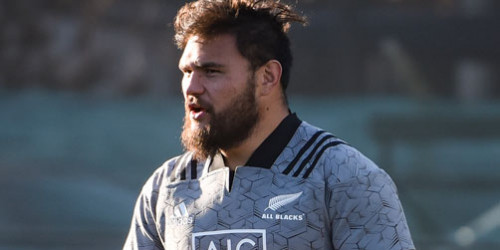 Ta'avao said 2018 had all been a bit of a whirlwind for him but to be named in the initial squad rather than as an injury replacement gave him a better understanding of what the coaching staff wanted of the players.
---
Ta'avao said he was happy with his Super Rugby season and he felt like he had controlled everything he could control. He worked on getting scrummaging consistency and his mobility around the field, working hard off the floor and getting back into the game.
"I felt like I ticked those boxes in Super Rugby but the beauty of it at the moment is competition in the front row is probably at an all-time high so you've got to keep nailing the little things, your core roles, and then trying to bring something a little bit extra that maybe someone else doesn't have.
"I'm just trying to work hard, do what they're asking of me and just putting my hand up," he said.
He said he was delighted Chiefs teammate Atu Moli had been able to come back from a serious injury to regain his place in the side.
"Not only has he played awesome rugby but he's a top bloke, a team first guy and always keen to crack a laugh and just to see what he went through…we were there, I played that Crusaders game and he was limping then the storm that happened after that, almost losing his leg.

All Blacks funny man Angus Ta'avao gives us an in-depth update from the team's gym session in Buenos Aires ???‍??#BackBlack pic.twitter.com/Ai9XJg20xv— All Blacks (@AllBlacks) July 15, 2019
"Then the fightback, I think he got to 140kgs in his first training back and then to come back from that and be playing some pretty good rugby was massive," he said.
Ta'avao was expecting plenty of passion from Argentina. He had felt that during the Super Rugby and with players added in from Europe that would only grow and add more excitement to the side.
"For any player stepping up into their national team, especially Argentinians, the passion is ten-fold although there is a similar structure [to the Jaguares] it will be a different beast, a massive beast that we need to respect."
Ta'avao said they had a good balance of attack and defence, they were a physical side, they tackled and defended really well and they put teams under pressure.
"You flip that on the other side and the way they attack is exciting, it's expansive. All players have the ability to offload, they've got some great backs who bring flair so I think they are a really great, balanced team and bring threats both sides of the ball," he said.
?? FLASHBACK! In the lead up to the All Blacks Test against Argentina this weekend, we are bringing you some great moments from the past. First up, TJ Perenara's stunning try from 2016! ???????? pic.twitter.com/BrYNlHUbxz— All Blacks (@AllBlacks) July 16, 2019