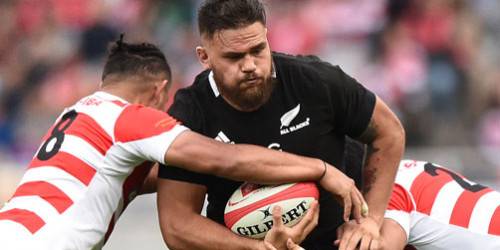 That extended break after the All Blacks end-of-season tour allowed time for assessment and thanks for one of the more remarkable turnarounds in fortune.
---
Ta'avao wondered what his future held at the start of the 2018 season which began without the security of a contract. But the dream never died and he had his reward for persevering.
"Not many people would have thought I would be an All Black, probably only my family really, even then it was 'what's going to happen?' So to be able to call myself an All Black now…I thought it might never happen," he said.
"To be able to look back and see where I was a year ago. There was a bit of frustration, not knowing the unknown. I was living week-to-week at the Chiefs as a replacement player but also frustrated because I still believed I could play at a high level and make an effect for the team, so it was sort of taking every opportunity I had.
"I obviously didn't have a contract and then once that Chiefs opportunity popped up it was like, 'You've got to take this otherwise who knows what's going to happen?'"
Ta'avao didn't feel the pressure of the situation, rather he took it as an exciting prospect.
"I came off the bench in the first couple of games for the Chiefs and I was loving just being able to play. I suppose the wake-up call of not having a contract through until the Mitre 10 Cup to that of, 'OK, here I am playing for the Chiefs in Super Rugby and it can go two ways. You can be like, less just enjoy this or put all this pressure on yourself that might inhibit your performance'.

Would you play it safe or raise the stakes? ??#SuperRugby coming 15.02.19. Get your tickets here ?? https://t.co/LdJdt7tc56 pic.twitter.com/yIPOHlLoiT— Super Rugby (@SuperRugbyNZ) February 4, 2019
"So I was just looking at it like, 'Let's just enjoy this and go out and have a crack, let's have fun. You've done all the hard work, you've done all the pre-season, you're fit, you're feeling good, why not just go out and play and enjoy yourself?'
"Then once I started Neps [Nepo Laulala] unfortunately got injured. But to start for the rest of the season and getting some really good solid minutes and playing long and great minutes, I was just having fun really," he said.
Ta'avao said when younger there was a case where pressure was self-imposed by the belief of what he needed to be doing in particular areas and resulted in not being true to himself and who he was and the realisation came with time was that he enjoyed being more relaxed.
He found when achieving state that he was having more fun, enjoying what he was doing and performing at his best.
"I feel like it has taken a few years to get to that, I've probably matured a little bit but that's the journey and path I've been on and its helped me get to where I am now," he said.
Part of that development came with his transfer from the Blues to the Waratahs and experiencing the different set-ups and emphasis between the two countries. What was similar that both sides had a lot of talent without performing to their potential.
"It was frustrating in terms of rugby but you had to fight through it and find ways to get up and train hard and for me it was a great experience to grow and learn to deal with. It's something different, you're out of your comfort zone. There was no family there, just me and my wife and our boy. It was a big city and crucial to helping me develop as a person and also a rugby player," he said.
One difference was the coaching load on sides. At the Waratahs the coach in charge of scrummaging had several other requirements to look after whereas in New Zealand there were scrum specific coaches.
So that put a lot of emphasis on working with one or two other players after training on extra technical elements of their roles.
Reaching All Black standard had opened up another level of exposure to coaching at the top rank.
"You've got the best coaches in the world. You've got Gilbert Enoka who is one of the best mental skills coaches and helps you think in different ways, the same as Steve Hansen. He's the coach that helps you get the answer rather than just giving you the answer.
"He helps you to think in ways you wouldn't have thought beforehand or question things like 'Am I doing as much as I can?' and to be around the best players in the world and the standards and processes has been awesome.
"So you can take a few little gold nuggets from that and add them to your schedule and preparation that will help yourself. It's a special environment to be part of and I'm pretty stoked to have been in there," he said.
Having the advantage of that end of season break he had been driven to get out and put in the work during his break, and then join the Chiefs and see how fit they were looking for the campaign ahead. That had been exciting.
The word was the Chiefs have never been fitter, it is a young squad and behind fellow prop Kane Hames, Ta'avao is the oldest player at 28.
"It's awesome to see the shape the boys are in and I can't wait to rip into next week," he said.
And while there may have been loss of experience up front Ta'avao said the resources the side had were still good and he felt they would be well up to the task.
?? PLAYER SPOTLIGHT | Promising loose forward Luke Jacobsen is back from a long injury layoff and set for a big season with @ChiefsRugby.

READ ???? https://t.co/LJFrqivaP9 pic.twitter.com/TU9vc1FcQN— Super Rugby (@SuperRugbyNZ) February 5, 2019