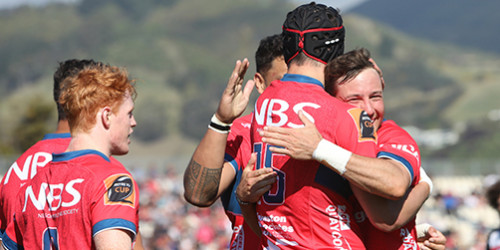 For a side outside the four main centres that is a real plus but not surprising given the consistency Tasman have built up as being the best-performed side behind Canterbury in the last six or seven years.
Beaten by eventual winner Canterbury in last season's semifinal they will be looking to go better this year and achieve their second title under their coaching team of Andrew Goodman, Clarke Dermody, Shane Christie and Gray Cornelius.
---
QUICK TAP: FIVE PLAYERS TO WATCH - OTAGO
---
Goodman has stepped into the role vacated by long-standing local identity Leon MacDonald who moved on to Super Rugby coaching with the Blues this year.
The only notable players missing from last season's side are 93-game veteran Alex Ainley, who was restricted by injury to only two games, and Solomon Alaimalo, who has stayed in Hamilton to play for Waikato.
Back with the side is Joe Wheeler, an 80-game locking veteran for the side who has spent three seasons with Suntory. Atunaisa Moli has been included, dependent on All Blacks World Cup selection, and Hugh Roach from the Melbourne Rebels.
Roach, a hooker for Australia's Under-20 side in 2011-12, has played 41 games for the Waratahs from 2013-18 and played eight games for the Rebels this year
There is plenty of excitement in the squad from the attacking threat that Will Jordan will pose from fullback through the dangers of outside backs Leicester Faingaanuku, Levi Aumua, midfielders David Havili and Alex Nankivell, five-eighths Mitchell Hunt and lively halfback Finlay Christie.

?? 60 seconds with @AucklandRugby's TJ Faiane

They kick off their campaign with the 'Battle of the Bridge' against @HarbourRugby at Eden Park next Friday at 7.35pm! #Mitre10Cup pic.twitter.com/1TWh8SuRUe— Mitre 10 Cup (@Mitre10Cup) August 1, 2019