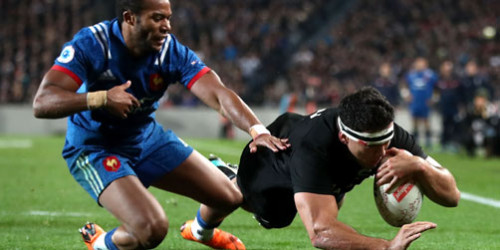 Taylor demonstrated the sort of nose for tries that marked the careers of fellow hookers Sean Fitzpatrick and his immediate predecessor and mentor Dane Coles, when he posted his eighth in Saturday's 52-11 win.
Taylor said he was enjoying his time and especially after the two camps the side had leading into the series.
"To finally get out there last night was just awesome. It was a tough battle for that first half and to score some points like we did in the second was a bit sweeter," he said.
Having had extra responsibility to step up in Coles' continuing absence Taylor said he was feeling more comfortable in his role.
"I've been there a few years now so I've learnt my role and I've just got to go out there and perform it. I've got a lot of confidence off the back of last year and to go out there last night and to follow that up is awesome and hopefully I can keep doing that in the rest of the series," he said.
The All Blacks had expected a tough, combative contest and it had been all of that for the first threequarters of the game.
"We knew it was going to be an arm wrestle given the way the French play. They play with a lot of passion and they really back their forwards and we sort of knew that we had to be a bit direct and up front before we could earn the right to spread the ball wide. And that showed in the first 40-50 minutes that we just had to win the contact area to give ourselves opportunities out on the tramlines," he said.
At the same time, having roomed with Test newcomer Karl Tu'inukuafe all week, he wasn't surprised at the impact he made coming on and obliterating the French scrum at his first chance.
"We always talk about key moments and that was one of them. Karl came on, first scrum, a key moment for him to build some confidence, and he really nailed it."
For a team on the end of that sort of treatment it was a case of thinking, 'We're under the pump here'.
"To nail that scrum helped turn the game a little bit, it worked in our favour.
"The way he's come into the environment, he's kept to himself but he's added stuff as well. It's just testament to him, he's come from a different background. He's come out of nowhere and taken his opportunity which is amazing."
Taylor said it was inspiring for others who might be in the same position Tu'inukuafe was in last year to see a man like him come through and set an example of what was possible with hard work.
He said his only advice to him for his first scrum was to stay straight and get stuck in.
"You could tell that he was ready to just get into it. To do what he did was pretty outstanding.
"We live and die from our back five in terms of our scrum. If we don't get that right then our front row can have a bad day so we've got to give some credit to the back five boys and what they do and what they did last night because they really knew we were up for a tough match up front," he said.