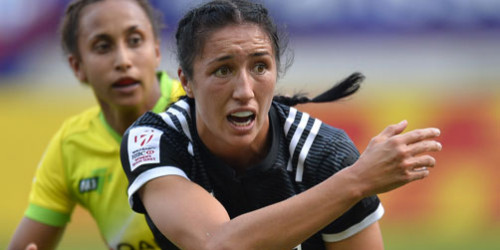 The New Zealanders are on a 33-game winning streak and have won their last four tournaments, including the Rugby World Cup Sevens and the Commonwealth Games.
---
QUICK TAP: MICHAELA BLYDE CROWNED WORLD SEVENS PLAYER OF THE YEAR
---
Goss, who had been at the World Rugby Awards in Monaco, said after joining the team that there was such a good bond at the moment and they felt so close.
"We call each other sisters, that's what we feel like and that's what we are.
"A lot of us hang out with each other back home and are good friends and I think that close bond helps make this a special team," she told worldrugby.com.
That togetherness was reflected on the field with the way combinations worked.
Accompanying Goss to Monaco was double player of the year winner Michaela Blyde. Portia Woodman was also nominated.
Goss said Blyde had been awesome.
"To be able to watch her grow as a player, as a teammate and as a person has been really special," she said.
Blyde goes into the Dubai tournament needing four more tries to become the second New Zealander to score 100 tries, and the fifth in the series history.
"She is definitely going to score 100 tries. If she doesn't, there is something wrong," Goss said.
Helping the side's preparation is the memory of their disappointing performance in last year's Dubai tournament.

Captains preview: With the perfect start to #HSBC7s series after getting the win in Glendale, @BlackFerns captain @Sgoss10 talks about her sides preparation ahead of #Dubai7s pic.twitter.com/zXVmQC9Qom— World Rugby Sevens (@WorldRugby7s) November 28, 2018
A quarterfinal 12-14 loss to the United States, less than 14 hours after they had beaten them 45-14 resulted in them finishing fifth.
"It was disappointing last year. We thought we were in a good spot until we lost that quarterfinal but that's what happens sometimes with sevens. Sometimes you think you're ahead and then it just falls away at the last second," she said.
"We have done a lot of work and obviously we've had success in Colorado [World Cup] and to be able to build on that in the next few days will be massive for us."
The side will also be looking to compensate for the loss of one of its most dangerous attacking forces Woodman who ruptured her Achilles tendon at training earlier in the month.
As they prepare to open their campaign against Kenya, Goss said Woodman's loss was a massive blow but it was also an opportunity for another player to stand up.
"They are going to get a lot more game time than they probably would have got if she was around and I have full faith in whoever comes in.
"We have got the likes of Alena Saili, I've seen her play a lot of tournaments for us, while Shakira Baker brings a huge dynamic for us and there's also Stacey Waaka who is coming off a successful 15s campaign.
"All three of them are really different but bring a lot to our team," she said.
The side has four changes from that which played in Dubai 12 months ago. Making her debut is Risi Pouri-Lane, the 77th Black Fern who led New Zealand to a gold medal at the Youth Olympic Games last month in Buenos Aires.

We know who the #BlackFerns7s are voting for, but what about you ?????

Vote for Kelly Brazier HERE ??https://t.co/9YBkWsGiGT pic.twitter.com/iUIPjohBEC— Black Ferns (@BlackFerns) November 28, 2018
Schedule:
Day One – Thursday 29 November
1.50pm v Kenya (10.50pm Thursday NZT)
4.46pm v Russia (1.46am Friday NZT)
7.43pm v Ireland (4.43am Friday NZT)
Day Two – Friday 30 November
Play offs
Broadcast
Watch Day One of the Dubai Sevens on World Rugby Sevens facebook page
Click here
to see all of the fixtures for the Dubai Sevens.
WATCH ?? Coach Allan Bunting discusses the talking points of the #BlackFerns7s team named to play in Dubai, with Risi Pouri-Lane set to make her debut.

FULL TEAM: https://t.co/WiNulwJun2#Dubai7s pic.twitter.com/QChQSdFXHu— Black Ferns (@BlackFerns) November 27, 2018