Being in the right place at the right time is the hallmark of all the best rugby players but none have arguably applied the principle better than Benjamín Bono (pictured top right) at Rugby World Cup Sevens 2001.
When you think of the players to have lifted the Melrose Cup as a Rugby World Cup Sevens winner, people like Waisale Serevi and DJ Forbes immediately spring to mind, but not Bono.
However, the Uruguayan became part of that illustrious group – and has the gold medal back home in Montevideo to prove it – when he was called up as a reserve for none other than sevens legend Eric Rush.
In the early years of the Rugby World Cup Sevens, squads only had 10 players and a pool of reserves would be provided by the host nation in the advent of any injuries. For the 2001 tournament hosted in Mar del Plata in Argentina, it was decided that the players would be drawn from neighbouring Uruguay, who had narrowly failed to qualify, with a fresh-faced Bono among the group eagerly waiting in the wings.
Played at the Estadio Mundialista, in the middle of a very warm Argentine summer, Rugby World Cup Sevens 2001 drew vocal crowds that would erupt when the home side, led by current World Rugby Vice-Chairman Agustín Pichot, took the field.
Bono, from the British School Old Boys' Club in Montevideo, and his countrymen were understandably itching to sample the atmosphere first-hand and, in his case, it was Japan who came calling first.
As it transpired, Bono was not needed by the Asian outfit. However, his big opportunity to impress was not long in coming.
RUSH REPLACEMENT
"In the last game of the second day, Eric Rush broke a bone in his leg and All Blacks Sevens coach Gordon Tietjens asked his friend Pedro Bordaberry, from the Punta del Este Sevens which my club organised, to recommend someone from the pool of reserves and he told him about me. I was lucky," recalls Bono.
Bono remembers the moment well.
"That same night I moved to the team hotel and slept in the same room as Eric Rush who already had his leg in a cast. I was very shy at first but, fortunately, I knew him from his visits to Punta del Este. Straightaway, I was very well treated.
Rush flew home the next morning and Bono, now fully kitted out in All Blacks Sevens gear, become part of the squad.
"That morning we did a short session so that I was up to speed with their calls and we went to the stadium," says the former Los Teros back-row.
New Zealand had beaten Japan, Chile, Zimbabwe and England in pool play and soon accounted for Samoa in the quarter-finals. Well-supported hosts Argentina lay in wait in the semi-final, yet New Zealand came through to win 31-7.
"Just as I was about to step onto the field, the game finished," says Bono with a rueful smile on his face.
The final against Australia saw Jonah Lomu at his best, and Bono will never forget sharing the same dressing room as the great man.
"Before the game in the changing room, he came to me, put his huge arms around me and said, 'don't worry, mate. We are going to be okay'. He was a beast. His leg was twice the size of mine!"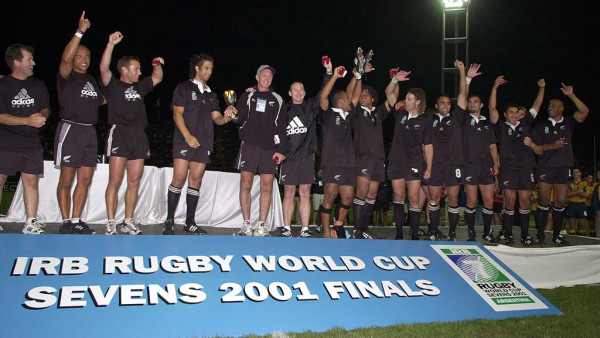 STRIKING GOLD
With players of the stature of Lomu, Mils Muliaina, Karl Tenana and Amasio Valence, the Tietjens-coached team ran out comfortable 31-12 winners against a good Australian team. Bono, watching from the bench, enjoyed seeing his new-found team-mate Lomu score a hat-trick.
"We all got a medal at the presentation and I even got to hold the Melrose Cup. When I had it, a photographer friend of mine, Nacho Naón, shouted out for me to pose with it. Needless to say, I didn't do the Haka!
"When we went back to the changing room I went to return the medal to the manager but he told me to keep it, that there were enough for all of us."
Bono's All Blacks Sevens kit is proudly on display on the walls of the Old Boys' Club, for whom he played senior rugby for a number of years before coaching the third XV until last year. Nowadays, the father-of-three enjoys his rugby with family and friends purely as a supporter and prefers to keep his famous, yet secret past, largely to himself.
"I got them to be world champions!" he says with tongue firmly in cheek. "I was very fortunate to be in the right place at the right time as anyone in the reserve squad could have been drafted. I was a witness in a VIP seat.
"It is not something I normally speak about. I feel no pride or sense of fulfilment out of being a 'champion', but it does make me smile and happy when it comes up, having been able to live that experience."
The triumphant New Zealand squad of 2001 were Rodney So'oialo, Eric Rush (captain), Jared Going, Karl Tenana, Amasio Valence, Brad Fleming, Jonah Lomu, Mils Muliaina, Craig Newby, Roger Randle and Benjamín Bono.
This article was previously published by WorldRugby.org