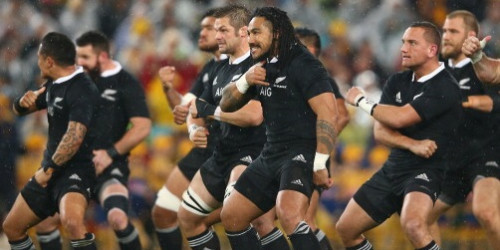 If you have never performed ballet before, imagine trying to form a half square with your legs, knees bent and legs spread out as wide as you can.
One suspects that when the Maori warriors performed their peruperu in front of the enemy, the last thing they would have done is have a chuckle saying that look like ballerinas.
Ka Mate, the Haka performed by the All Blacks and one of many performed throughout Maori culture (Whakatu Waewae and Ka Panapana are still practiced widely), has a unique history.
It is accepted that Te Rauparaha, a leading Rangatira (chief) composed Ka Mate after escaping certain death in 1810, hiding in a food pit.
The Haka has been regularly performed for hundreds of years, but the story of the Ngati Toa leader is prominent throughout the 'modern' version.
Further legend is revealed when looking back on ancient history of Aotearoa, with the haka first derived from the sun of god Ra.
He had two wives: Hine-raumati, who was the essence of summer, and Hine-takurua, the essence of winter.
Ra and Hine-raumati lay together and gave birth to a son called Tanerore.
On hot summer days it is possible to see the light dancing.
Legend has it that this is Hine-raumati's son, Tanerore, performing for his mother and the wiriwiri or trembling shimmer that is today reflected in the trembling of the haka performer's hands.
The first use of the haka in the 'natural world' was attributed to the chief Tinirau and some of his womenfolk.
Tinirau desired revenge for the killing of a pet whale, so he sent a hunting party of women to find the man responsible, an old tohunga or priest called Kae.
The women didn't know what Kae looked like, but they knew he had uneven teeth that overlapped.
When the women arrived at Kae's village they performed the haka to force a smile from the men in order to uncover Kae's identity (with great thanks to tourism.net.nz for this fantastic information).
Ka Mate has not been the only Haka performed by the All Blacks (or teams still to gain this moniker), with 'Tena koe Kangaroo' among the first while the Originals performed Ko Niu Tireni.
Derek Lardelli of Ngati Porou, Rongowhakaata, Ngati Kanohi (Ngai Te Riwai) and Ngati Kaipoho (Ngai Te Aweawe) composed Kapo O Pango, revealed by Tana Umaga's All Blacks for the first time in 2005.
It isn't a dishonourable advantage.
You would be hard pressed to find a rugby player who has faced the Haka who will say it was a bit silly.
Those men will feel the same fire that the All Blacks would experience, modern science might call it adrenaline.
It is part of New Zealand's history, wihich all teams clad in black embrace.
It is not a dance, nor ballet, nor a frenzied series of gestures that creates some form of ethereal benefit.
It is part of the All Blacks tradition, and most fans would agree that they cannot wait to once again see it performed at Twickenham, where the crowd always responds with an equally passionate, and even historic, response.