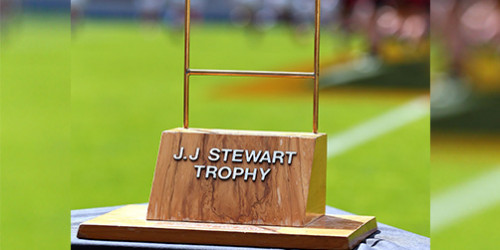 But before I talk about this weekend, a quick history lesson for those that don't know about the JJ Stewart Trophy.
---
QUICK TAP: ALL BLACKS EXPECTING THE UNEXPECTED FROM ARGENTINA
---
JJ Stewart was a former All Blacks coach and ardent supporter of women's rugby in New Zealand. To acknowledge his contribution to women's rugby, a challenge trophy was established in his name for New Zealand's women's provincial teams to play for.
Auckland had a stranglehold on the trophy for 22 years and it became a little forgotten about until Otago claimed it in 2013.
Since then, a whole new lease of life has been breathed into the trophy and it is now one of the most sought after prizes in women's rugby in New Zealand.
Last year we were thrilled to claim the trophy when we defeated Counties Manukau on their home patch.
Just like the Ranfurly Shield in the Mitre 10 Cup, the JJ Stewart Trophy must be defended by the holder in all regular season home games.
We had a tough defence against Waikato in round three this year and expect another epic challenge against Counties Manukau Heat this weekend.
We saw some of the Heat players in the airport last week and they said "See you next weekend, we are coming to get JJ". So there's a bit of banter there already and teams realise just how important the trophy is.
For us, it is our Ranfurly Shield and has been a big part of preparation this week. We want to defend it and keep the trophy in Canterbury for another season.
This Sunday will be our first double header at home. We play Counties Manukau at 11.35am with the men's team taking on Hawke's Bay at 2.05pm in the Mitre 10 Cup. The winner of our clash against Counties Manukau will not only hold the JJ Stewart Trophy, but also move into a strong position to secure a home semifinal with just one round remaining.
Talking about semifinals, the competition in the Farah Palmer Cup has been fierce this season and the top four positions in both the Premiership and Championship are still up for grabs. This weekend will be pivotal for all contenders and promises to be full of action.
If you can't get down to Christchurch Stadium on Sunday, reserve a spot on the couch and catch us live on Sky Sport at 11.35am.
The following games are broadcast live on Sky Sport this weekend:

Friday 28 September, 5.05pm: Auckland v Bay of Plenty
Saturday 29 September, 2.35pm: Taranaki v Otago
Saturday 29 September, 11.35am: Waikato v Manawatu
Sunday 30 September, 11.35am: Canterbury v Counties Manukau

?? Krysten Cottrell is sitting at the top of the Fiao'o Fa'amausili Medal points table in the #FarahPalmerCup. With the business end of the season approaching, who is your player of the season so far???#Ours pic.twitter.com/s1JSjoGHqi— Black Ferns (@BlackFerns) September 26, 2018