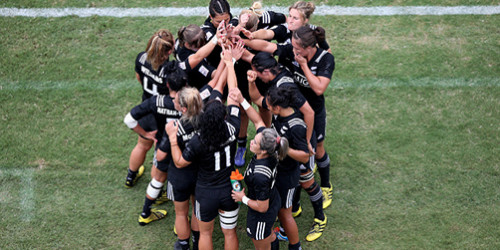 Their absence sees the return of Gayle Broughton and Stacey Waaka – who will meet the squad in Dubai straight from the Black Ferns XVs tour in France, while Youth Olympic Games captain Risi Pouri-Lane is also named in the 13-player squad that travels to the United Arab Emirates tomorrow.
---
The squad is;
Shakira Baker (Waikato)
Michaela Blyde (Bay of Plenty)
Kelly Brazier (Bay of Plenty)
Gayle Broughton (Taranaki)
Theresa Fitzpatrick (Auckland)
Sarah Goss (captain) (Manawatu)
Tyla Nathan-Wong (Auckland)
Risi Pouri-Lane (Tasman)
Alena Saili (Southland)
Terina Te Tamaki (Waikato)
Ruby Tui (Bay of Plenty)
Stacey Waaka (Waikato)
Katarina Whata-Simpkins (Wellington)

Coach Allan Bunting said travelling without Woodman and Williams was a loss to the team both on and off the field, but it also presented opportunities for other members of the squad.

Woodman ruptured her Achilles at training earlier this week and is set to undergo surgery today, while Williams is recovering from a knee injury.
"It is a big loss but at the same time it's a chance to develop our depth and we'll see Shakira Baker, Stacey Waaka and Alena Saili step up and get more game time.
"Gayle comes back in and she is looking sharp as usual and Stacey has been with the Black Ferns, she still has one Test match to play and then she'll join us, have a chance to recover and then get back into sevens.
"Risi has been with us for a year now and has been really growing as an athlete. She's coming off a great campaign at the Youth Olympic Games so we are looking forward to her getting out there and having a crack," said Bunting.

The Black Ferns Sevens opened the 2018/2019 season with victory at the Glendale Sevens in USA last month and Bunting said the team is hoping to build from that tournament.

"This season the focus is on gaining Olympic qualification and doing that the best we can so we need to start well in Dubai and play each game as if it's a final.
The team depart for Abu Dhabi tomorrow to train for a week before heading to Dubai for the tournament. They are set to face Kenya, Russia and Ireland in pool play.

?? The Women's Rugby World Cup is coming to New Zealand and the Southern Hemisphere for the very first time! Catch up on all the reaction to the landmark announcement and what this means for women's rugby in New Zealand.

MORE ?? https://t.co/eRrPDcvzDV#WRWC2021 pic.twitter.com/SGeTAv3mSH— Black Ferns (@BlackFerns) November 14, 2018