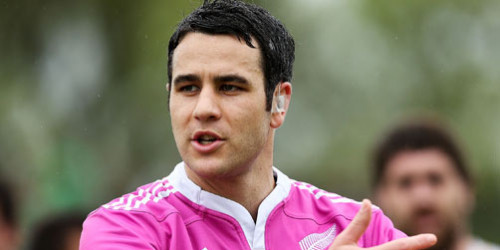 Glen Jackson will have the Italy v Ireland Test in Rome on February 24.
Ben O'Keefe will referee the Ireland v France Test in Dublin on March 10 while Paul Williams will control the Calcutta Cup game between England and Scotland at Twickenham on March 16, the final game of the competition.
---
QUICK TAP: ASB RUGBY AWARDS NOMINATIONS ANNOUNCED
---
In the opening game on February 1, Brendon Pickerill will be the second assistant referee in the France v Wales Test in Paris.
Glenn Newman will be the TMO for one of the big games of the competition, Ireland v England in Dublin on February 2.
Pickerill and Newman will then be involved as second assistant and TMO respectively in the England v France game at Twickenham on February 10.
Williams will be assistant referee for the England v Italy game at Twickenham on March 9.
Skeen will be TMO for Ireland v France while O'Keefe will be the first assistant referee for Wales v Ireland at Cardiff on March 16. Skeen will also be TMO for the England v Scotland game.
Fourteen referees, six assistant referees and seven TMOs have been appointed for the series. Four referees are from France, three each from England and New Zealand, two from Australia and one each from Wales and South Africa. Australian Nic Berry is the only referee appointed to two Test matchs.

Check out what the All Blacks could be putting under your tree this Christmas!
Enter below and you could win some epic prizes including a signed All Blacks jersey. ??

Sign up to Team All Blacks to enter ?? https://t.co/A1LOcSBRCY
Get bonus entries here ?? https://t.co/9f0V7qQFCv pic.twitter.com/yFgxucQGWb— All Blacks (@AllBlacks) December 7, 2018
The incentives will be high for those taking part as at the end of the Six Nations, 12 referees will be selected for the Rugby World Cup along with seven assistant referees and four TMOs.
Those selected for the World Cup will then attend a preparation camp in Japan during July in order to be ready for the Cup.
The chairman of the World Rugby Match Officials selection committee, Anthony Buchanan said: "The Six Nations Championship will provide a very important platform for our Rugby World Cup 2019 preparations, with high intensity matches in front of exceptionally engaged, atmospheric crowds, giving our match officials a great opportunity to put into practice the hard work undertaken at our referee training and preparation camps.'
Selecting the officials for the World Cup would be tough exercise and they would be looking for 'consistency of clear and accurate decision-making in the biggest international fixtures and competitions, including the Six Nations'.
"Our goal is to arrive at the Rugby World Cup with the best-possible team of in-form, in-peak physical condition match officials. Just like the teams, they are focused on performing in Japan in the best condition of their lives on the greatest stage of rugby," he said.
2018 saw 1?6? new All Blacks take the field. How many do you think we will see next year? Check out our 2018 infographic for more awesome stats!

Full inforgraphic ?? https://t.co/g1uRWQDPnl pic.twitter.com/bp2OF45l4t— All Blacks (@AllBlacks) December 7, 2018