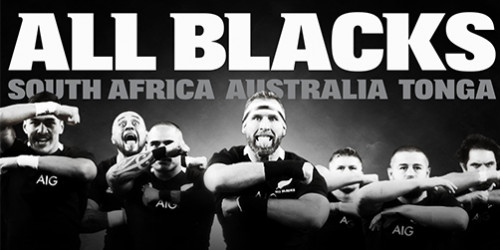 Rugby fans will be able to get behind the All Blacks Rugby World Cup campaign from midday today with tickets going on public sale for home Test matches against South Africa, Australia and Tonga.
PURCHASE HERE
The trio of matches at Westpac Stadium, Eden Park and FMG Stadium Waikato represent the All Blacks only home Tests ahead of the 2019 Rugby World Cup in Japan.
New Zealand Rugby Chief Rugby Officer Nigel Cass said there were early signs that fans were rallying behind the team as they prepared for 2019.
"The support of New Zealanders is hugely important to the All Blacks and we are already seeing the extra passion and excitement that a Rugby World Cup year brings

"Pre-sales have been ahead of what we would normally experience at this time of the year which reflects the fact there are only three chances to watch the All Blacks live on home soil in 2019 before the team heads off to Japan in September.
"New Zealanders played a huge role in the All Blacks World Cup success in 2011 when 50,000 people spurred the team to victory at Eden Park. That home support will undoubtedly spur the team on as they prepare for their 2019 Rugby World Cup campaign."
The All Blacks play South Africa at Westpac Stadium on 27 July and Australia at Eden Park on 17 August during this year's abbreviated Investec Rugby Championship before rounding out their Rugby World Cup build up with a Test against Tonga at FMG Stadium Waikato on 7 September
Public sales for all three Tests go live at midday today
HERE
The Wellington Test is a blockbuster Investec Rugby Championship rematch of last year's thrilling Test against South Africa at Westpac Stadium where the Springboks won 36-34. The match will also be a precursor to the two teams Rugby World Cup opener which will see the two old rivals square off in a pool match at Yokohama on 21 September.
With only two Bledisloe Cup matches in 2019, the Test against Australia at Eden Park has an added edge, while also providing fans with a double-header fixture that sees the Black Ferns play the Wallaroos in the first Test of their Laurie O'Reilly Trophy series.
The All Blacks final match before heading to Japan sees them play Tonga for just the sixth time, and first since they met in Newcastle during the 2015 Rugby World Cup.
"It's a shortened Test schedule, but also an exciting one," Cass said. "Each of these home Tests are important in their own right and will play a role in the All Blacks Rugby World Cup preparation. I'm sure a lot of New Zealanders will want to play their part and show their support."
All Blacks Head Coach Steve Hansen and his fellow selectors will name their 31-man squad for the 2019 Rugby World Cup in early September.
The All Blacks 2019 home schedule is:
27 July v South Africa, Westpac Stadium, Wellington17 August v Australia, Eden Park, Auckland07 September v Tonga, FMG Waikato Stadium, Hamilton
??? "I want to be the best I can be" - Richie Mo'unga explains the reasons behind extending his contract with @NZRugby.

FULL STORY ?? https://t.co/FJiiFVYGfW pic.twitter.com/LUXZQ3FDQk— All Blacks (@AllBlacks) April 26, 2019