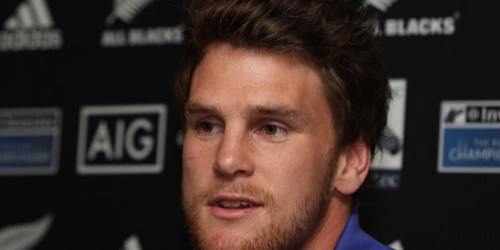 Coach Steve Hansen praised Todd's approach in spite of his being on the fringe of regular inclusion in the squad as a result of his competition for a place with Sam Cane and Ardie Savea.
---
QUICK TAP: ALL BLACKS v ARGENTINA TEST PREVIEW
---
Todd didn't get bitter, he got better, Hansen said.
Todd said: "I guess when you're not in the team you want to work hard to get back in so if you do get back you're in a position to take the opportunity.
"If you drop your lip or don't work as hard when you're not in here, when that opportunity does present itself you won't be in position to take it and you let yourself down.
"No matter who I'm playing for, or training for, I just try to work hard and get better every day and each opportunity to play, no matter what level, is an opportunity to perform and try to keep high standards.
"If you do get called in you don't have to change, you just keep doing what you're doing and keep working hard to hopefully make the most of that opportunity," he said.
While he hadn't played a lot of rugby recently, Todd said he had been able to do plenty of running and get miles in his legs and it was just a case of getting his body back to playing condition.

WATCH ?? Luke Romano shares his method of firing up the team in training, but there's one player he avoids! #ARGvNZL pic.twitter.com/44ADMNPbbl— All Blacks (@AllBlacks) September 26, 2017
Todd said he was comfortable in his position coming in and out of the side.
"The more times you do it the less there is to pick up each time. There's always changes but it's more just refreshing yourself on the plays and the calls and what's expected and just refamiliarising yourself with all the players…so it's not as daunting and not as much to learn," he said.
It had been a good week preparing for the game as they had been able to settle in and adjust in Buenos Aires by arriving a few days earlier than usual.
"It's a lovely place, has great culture and the boys have enjoyed that and it has meant we have had a normal training week," he said.
Lock Patrick Tuipulotu said the standards were always the side coming into the camp but there were always some new tweaks to the game plan that needed to be picked up.
He said his experiences of the past 12 months or so had made him a stronger person, with better willpower and he had put in a lot of hard work to get back into the side.
OPINION | "A chance to throw players into the fire, versus a chance to come out with an iconic result."

READ: https://t.co/9BA2tU6zfu pic.twitter.com/wYoCy8RywJ— All Blacks (@AllBlacks) September 28, 2017