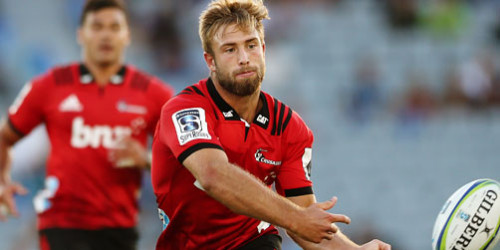 Robertson said the Blues deserved credit, there was a lot more detail to their game and it had been clear what they were doing and he was 'really impressed' with them.
---
"They had the right people in the right places. You could see their clear game structure probably more than other years," he said.
"They were brutal at the breakdown. Tom Coventry's done a great job, they're cleaning around the corners, a metre beside the ball you're gone and cleaned out so they're very Chiefs-like. That's the detail I was talking about that they bring so they were very brutal and that shows the extra edge they've got," he said.
They had quality players and it was necessary to have a good scrum which they had while the Crusaders did too.
"They were two good sides going at it and for us to get that…you feel for Harry [Plummer] a young fellow, debut, missed a couple, that's tough and for ourselves we have to be much more disciplined, we were poor at times," he said.
But that also reflected how they had been in their two warm-up games but they had beaten the Highlanders in a tough, tight battle and they had done that again on Saturday.
"It was a great contest, it just seemed like one team dominated and then the other team dominated. There were a couple of big moments around the scrum obviously and then a couple of massive not-straights [at lineouts] to both teams and we both got away with it. It had everything, didn't it?"
Robertson acknowledged the depth he had at centre where Braydon Ennor made the most of his chance in his favoured position in the absence of Jack Goodhue.
"Yeah, he's great isn't he? Great speed, very mature for a young man, good player, St Kents, I just had to chuck it in," he said.
In relation to the two penalty tries it had been telegraphed to the teams how the referees would approach that issue and they had been true to their word, he said.
There was more injury frustration for All Blacks prop Tim Perry who was only on the field a few moments before suffering a broken arm.
Robertson said he was delighted with the way the All Blacks came back into the side on limited preparation to show the skills they did. The Crusaders were not the best starters in the competition and tended to make it harder for themselves, but the Blues had also made it harder on the night.
It wouldn't get any easier for the Crusaders either, he said as they had six New Zealand derbies in the first nine rounds and they didn't have a bye until round 10.
"It was a pretty critical start for us to get. The boys really care and played hard," he said.
Would you play it safe or raise the stakes? ??#SuperRugby coming 15.02.19. Get your tickets here ?? https://t.co/LdJdt7tc56 pic.twitter.com/yIPOHlLoiT— Super Rugby (@SuperRugbyNZ) February 4, 2019