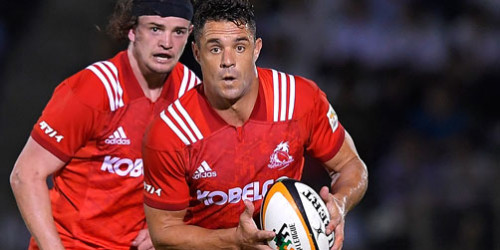 Now playing his rugby in Japan for Kobelco Steelers, the world's highest points scorer in Test rugby told Britain's Skysports.com he had been 'hugely impressed' by the side and what they had achieved.
---
"They're a fantastic team and I think they've grown from 2015 and I think the World Cup is going to be their biggest test. Historically, post-World Cup, a lot teams struggle through a bit of a rebuilding phase and the All Blacks didn't do that," he said.
That was in spite of them losing an unprecedented core of experience from players like himself, Richie McCaw, Tony Woodcock, Keven Mealamu, Ma'a Nonu and Conrad Smith after 2015.
"That's why there were so dominant in the first couple of years. Now teams are starting to find form and consistency and the competition for the All Blacks is so much stronger than it was a year or two ago," he said.
However, Carter said as other countries firmed their squads the competition would lift ahead of the World Cup.
"I think that will be the real test to see exactly where this team is at. I'm confident they'll be even stronger in 12 months than they are now," he said.
Carter said with each trip he made to Japan he could sense a growing anticipation for the World Cup and games he had been involved in for his club had attracted sell-out crowds with all the atmosphere of a Test match. Japanese rugby was growing and heading in the right direction.
"They've got some quality rugby here in the top league but what they're missing is that really high level international game on a regular basis. To have a couple of Test matches like the Bledisloe Cup game and the All Blacks playing Japan; there's some high-quality rugby," he said.
And that quality would be assured on Saturday even with the Bledisloe Cup already decided.
"Speaking as an ex-All Black, there's no dead rubber match against Australia and after losing to them in the third Test match last year, when we had wrapped up the Bledisloe Cup, there will be a little bit of an edge to this game to make sure we don't repeat last year's performance.
"I'm expecting some really exciting, high-level international rugby, so it's exciting for the Japanese fans."
Carter said he had not been surprised by the way Beauden Barrett's career had accelerated since becoming the first string first five-eighths for the All Blacks.
"He was always a world-class rugby player even when I was playing alongside him and you knew just what a talent he was.
"Finally, he's got his opportunity in the last couple of years and he's just taken it and taken his game to a new level. He's now directing and leading the backline and being one of the key figures of that team.
"He's really impressed me just with his leadership and obviously we all know how fast he is and with his skills he can just turn a game just like that. You can never relax because magical play from him just totally changes the game," he said.
Looking to the Test against England next month, Carter said England had an impressive spine to their squad, especially in their backline.
"There's so many world-class players and what's impressed me about England's team is they've got competition and depth they potentially didn't have a few years ago, or even before the World Cup," he said.
Five-eighths Owen Farrell was a key member of the unit both for his leadership and his competitiveness, he said.
?? It has been a big week of Test prep here in Tokyo but we found time for a quick ??. Great to meet so many of our Japanese fans today. ???????? pic.twitter.com/z7djwb7Xbn— All Blacks (@AllBlacks) October 24, 2018