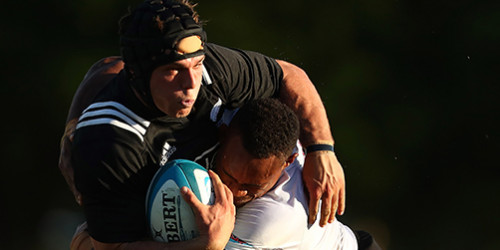 The squad has been preparing in Mt Maunganui ahead of flying out for the south of France and their base in Perpignan.
---
QUICK TAP: NZ UNDER 20 SQUAD NAMED FOR WORLD CHAMPIONSHIPS
---
Tremain had surgery at the end of last rugby season on a shoulder that kept dislocating and he missed the side's first two camps while rehabilitation.
"I thought it would be a little bit unlikely but I was lucky enough to get the call," he said.
It helped that coach Craig Philpott lived in Hawke's Bay and he kept Tremain in the loop and let him know what the position was and that there was still an opportunity there.
A product of Napier Boys' High School, Tremain played a few years in the 1st XV, and was told he had some potential in the game. He had a couple of years in the Hawke's Bay Under-16s. He attended the Hurricanes skills camp and made the Hurricanes Under-18 side. He also attended the New Zealand Schools' camp but missed out on that team due to injury.
That injury has been fine since being back playing but during the final camp in Mt Maunganui he was recovering from a knock to his other shoulder suffered during the Oceania Cup tournament on the Gold Coast but it was progressing well and was nothing like the earlier injury, he said.
The obvious question with his surname, he was expecting it to be asked, surrounded his grandfather, the All Blacks legend Kelvin Tremain, one of the top try scorers in Test match rugby of his 1960s era.
"Obviously I take extreme pride from my family name but I'm not the first player to carry a famous family name into a rugby career so there's a little bit of expectation there in the name and having to carry that but I want to make my own legacy out of it," he said.

The New Zealand Under 20s are putting in the mahi as they prepare for the @WorldRugby Under 20s Championship ??#WorldRugbyU20s pic.twitter.com/cUeTbDeOv4— All Blacks (@AllBlacks) May 22, 2018
New Zealand kick off their World Rugby Under 20 Championships campaign against Japan at 7am on Thursday 31 May. Watch live on TVNZ Duke.