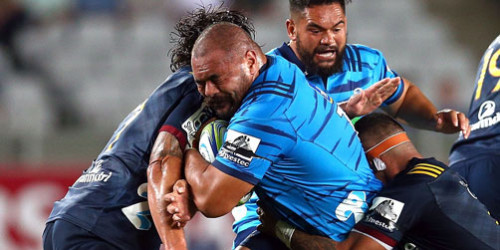 An injury replacement with the Chiefs last year, he did well enough to be included in the All Blacks by midway through the season and the rest is history.
"The more you play, the more you learn," was his summation of 2018.
---
QUICK TAP: CHIEFS READY TO BUILD ON TOUR SUCCESSES
---
Getting to play invaluable, yet unexpected, minutes ensured he learned plenty especially outside of scrummaging.
"I was just a scrummager coming off the bench for North Harbour, then I had a lot to learn at the Chiefs when I was starting. I definitely learnt a lot more just getting the experience with minutes," he said.
Stepping up to All Blacks level it was all about sucking in the advice from scrum coach Mike Cron and assistant coach Ian Foster to be more than just a one-dimensional prop.

?? ROOKIE UPDATE | Check out the rookie of the year leaderboard after 8? rounds of #SuperRugby. Would you make any changes? ??#RaiseTheStakes pic.twitter.com/1GxjJ4dI8q— Super Rugby (@SuperRugbyNZ) April 9, 2019
The advantage of having a contract sorted from the outset of the season was a changed situation for Tu'inukuafe after his injury replacement role last year with the Chiefs.
"When you're an injury replacement you can't get injured or you're out again. You don't get paid if you're injury cover [and get injured] so having that security here at the Blues I've been pretty happy and grateful for all that type of stuff to really focus on my game," he said.
At the same time that has allowed him to work on his preparation and the benefit of that was he was much fitter than last year. Quantifying that was difficult but his most appropriate measure of the difference was that when running around his lungs were not struggling as much.
"I've got more clarity in the mind when I'm under fatigue," he said.
Coming into what is his home side, he said the Blues had always had quality individuals for the last five or six years, or even longer, and it had been a struggle but the difference seen to date in 2019 came down to the staff and coaches.
"All the work they have done with the players has clicked very well. It's a big ups to Leon [MacDonald], Tom [Coventry], Tana [Umaga], all those guys are getting all these great individuals to turn into a great team," he said.
Having worked with Coventry with North Harbour, Tu'inukuafe said his ability in reviewing performances generally nailed what needed to be done and he concentrated on that in subsequent training so it didn't happen again.
"He's definitely all about those little details and that's a huge difference with coaches I've worked with before. Anything to do with the forwards, he's a great coach," he said.
The last person worried about playing his early part of the season at least, off the bench, was himself. He was keen to do whatever his role was determined for the side.
Closing off the game by coming off the bench was something he had been doing ever since Coventry started coaching him and he was used to it.
Making it easier this year was the results that have been achieved by the Blues.
It's the same with his occasional packing down on the tighthead side of the scrum. While a specialist loosehead, he was happy to adjust to the tighthead role if the coaches needed him to do it.
While the side was doing well up front, and gaining more respect, he said they could still do better.
"There are times when we're our own worst enemies. It's little things like the size of our sprigs, it's things like that we can tweak up on and be better at," he said.
While it's only natural to look at a potential World Cup campaign at the end of the season, Tu'inukuafe wasn't looking that far ahead because his goal was working towards a Super Rugby title that the Blues had been lacking for a long time.
"I really feel this team is one that can do it," he said.
?? Want #SuperRugby stats, live scoring, the latest news and exclusive video? Download the official @AllBlacks App and get it all! pic.twitter.com/PLSoS9YbWb— Super Rugby (@SuperRugbyNZ) April 9, 2019