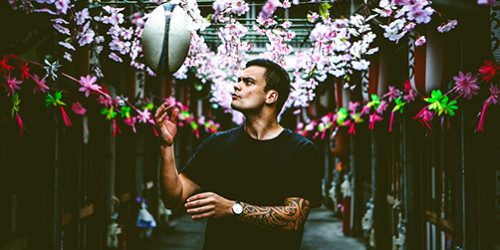 Jared James is the only foreigner in an all Japanese rugby team, Shizuoka Rugby Club. The 24-year old headed to Japan teach English in 2014. It wasn't until a workmate suggested he should play rugby that he rediscovered the sport. Rugby has been an opportunity for Jared to find a support system and friends in Japan.

Earlier in the year, a small team of kiwi filmmakers traveled to Japan to shoot a short (3-minute) documentary about Jared and his amateur rugby team. The documentary titled Union follows Jared as he searches for belonging and discovers strength amongst strangers.
The story explores the power of rugby to bring people together, even when those people don't speak the same language.

Union presents the national sport of New Zealand as more than a game. The film is about unity. It is a story from the sidelines about human connection through sport. Rugby is a tool to break down culture barriers. Diversity in rugby is celebrated. Union lays bare the essence of the game, and through Jared's eyes we experience the improving, motivating, confidence building aspects which make rugby worth valuing.
---
In the lead up to Rugby World Cup 2019, Union is also an inside look into the sport in Japan. The film will showcase the universality of the game and is designed to bring Japan and New Zealand closer together.

Speaking about the project filmmaker Jericho Rock-Archer says: "Rugby is valuable as more than just a sport, in Japan it's being used by Kiwis to reconnect with their country, and to find support in a new isolating environment, that's what this film is all about."

From his hair-styling regime to favourite pie flavour, #AllBlacksPodcast puts the big questions to @ardiesavea!

??: https://t.co/ScztJV0zb0 pic.twitter.com/6zwnbMjoHY— All Blacks (@AllBlacks) October 11, 2017