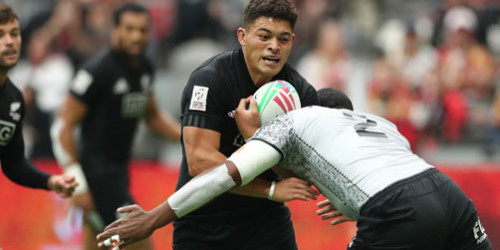 New Zealand beat England 26-19 to win the fifth place playoff.
South Africa won their first tournament of the year beating France, who hadn't been in a final since 2012, 21-12. That lifted South Africa to fourth place on 89 points.

The United States are still on top with 113 points while New Zealand have 106. Fiji, who beat the US in the third and fourth playoff 24-14 have 101 while England are fifth on 80 with Australia sixth on 65.
Apart from Spain beating New Zealand 26-24, Canada beat Fiji 26-19, South Africa beat the USA 19-7 and Canada beat Scotland 19-14. Meanwhile France, who were beaten by New Zealand in pool play, found themselves beating competition leaders, the USA in the semifinals, 33-5. South Africa, after their poorest start to the season in recent years beat Fiji in their semifinal 31-12.
---
The All Blacks Sevens scored first against England when Jona Nareki touched down after Andrew Knewstubb created an opening. Then Nareki broke after England infringed at the breakdown and set up Vilimoni Koroi for the try.
England bounced back when captain Tom Mitchell put his speed to use to break from England's goalline before finding Dan Norton perfectly positioned inside to score.
After the break Tom Bowen levelled the scores after Mitchell wielded his set-up influence again. England then upset their good work by failing to clear the 10m mark at the re-start and from the penalty Nareki was on hand after good work by Tone Ng Shiu inside him, to score.

Another penalty conceded by England saw Ngarohi McGarvey-Black use his sidestep in midfield to open a space and he raced through to put the issue beyond doubt. England finished with a consolation try after Norton provided Ryan Olowofela with a clear run to the line.
The All Blacks Sevens appeared set for their worst result in their consolation semifinal but scored in injury time to beat a spirited Argentina team 26-21.
A Tim Mikkelson pass from the gain at the kick-off went to ground and was secured by Argentina and then Mikkelson was penalised at the restart for a high tackle – both instances resulting in tries to Lautaro Bazan Velez. But it came at a cost for Argentina as Velez was forced to leave the field with an injury.
That stayed the Argentina tempo momentarily as New Zealand made the most of a penalty kicked to the corner which allowed Sione Molia to cross for a try through poor defence.
Argentina almost scored but Franco Florio stepped into touch leaving the score 14-7 at halftime.
Scott Gregory was introduced from the bench and made his impact by breaking the line to score and with just under two minutes left another replacement Nareki broke the Argentina line to score and get New Zealand back within two.

FT | The #AllBlacks7s finish their Vancouver campaign fifth overall after that win over England.

Thank you to everyone both here and back home for all your support this weekend ??#Canada7s pic.twitter.com/qiOqt6V1mV— All Blacks Sevens (@AllBlacks7s) March 11, 2019
An Argentina penalty conceded at a breakdown on their 22m line after the final hooter saw New Zealand move the ball for McGarvey-Black to score, however, the referee called the play back as he had stepped into touch and he was playing advantage.
At their second attempt Nareki again achieved the break and could have scored himself but pass to Te Puoho Stephens to complete a 26-21 win.
Against Fiji , New Zealand scored first after Mikkelson and Ng Shiu combined in a play which saw Sam Dickson score.
Typically, Fiji wasted no time in returning the favour after a strong sideline run by Meli Derenalagi was supported on the inside by Josua Vakrunabili who scored.
Then from the restart Aminiasi Tuimaba secured loose ball and ran in with ease.
But New Zealand responded on the back of a strong run by Joe Ravouvou and while he was pulled back by Tuimaba, Mikkelson was on hand to run a superb line to take the ball and score to give them a 14-12 halftime lead.
Solid defence from Fiji rocked the All Blacks Sevens at the start of the second half and when Sevuloni Mocenacagi created a breakthrough Tuimaba supported him and beat Knewstubb to reclaim the lead.
In keeping with the intensity these contests always involve, the New Zealanders struck back when McGarvey-Black got an offload to Koroi who scored to give New Zealand a 21-17 lead.
Then with time almost up, an interception was made by Paula Dranisinukula allowing Alesio Naduva to score in the corner. There was a TMO check on the grounding but it was ruled good and Fiji had their win 22-21.
More to follow
What a supporter to have in the stands at the @CanadaSevens ????

Great to have Jason Momoa backing the #AllBlacks7s ?? #Canada7s pic.twitter.com/UNjSnJFWD9— All Blacks Sevens (@AllBlacks7s) March 10, 2019