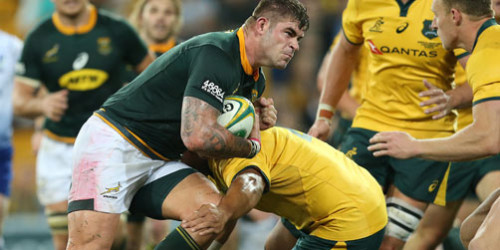 That's the view of one South African critic, Jon Cardinelli on sarugbymag.co.za.
The Springboks couldn't be sucked into a game of 'chasing Kiwis', he said.
---
QUICK TAP: BOKS NEED A WIN BEFORE WORLD CUP - SMIT
---
"It is easy to get caught up in the All Blacks hype. Their win record over a nine-year period is nothing short of sublime. More recently, their unbelievable attacking stats have led some critics and fans to suggest they are taking the game to another level, it's hard to argue with those numbers.
"Whether other teams should be looking to emulate the All Blacks in an effort to close the gap is another story. History, of course, tells us that the All Blacks have been at their most susceptible, and have often finished on the wrong side of the result, when they have been forced to compete outside their comfort zone," he said.
The Springboks would need the right mindset in Wellington to compete, let alone win.
Cardinelli asked if the All Blacks should throw caution to the wind, something Argentina did without getting close in Nelson but winning friends for their approach.
But that would play directly into the All Blacks' hands, he said.

??? TEAM NAMING | Here is your #AllBlacks 23 to take on South Africa in Wellington this Saturday.

FULL STORY ?? https://t.co/OkkRcLFPk1#NZLvRSA pic.twitter.com/s18SPV1PYC— All Blacks (@AllBlacks) September 12, 2018
"The Boks aren't fit enough to beat the All Blacks in a helter-skelter contest. The current team has had its problems on attack in the Rugby Championship – averaging 16 attacking turnovers per game.
"If the Boks make handling error after handling error in an attempt to stretch the All Blacks, they will lose by another humiliating margin. No side is better than the All Blacks in transitioning from defence to attack, and turning opposition mistakes into points at the other end of the field," he said.
Cardinelli suggested looking to the tactics the British & Irish lions employed in New Zealand in 2017.
"They troubled the All Blacks forwards, and kept the backs relatively honest. Territory and defence were prioritised, and so the All Blacks have very little room to work their magic.
"The Boks have beaten the All Blacks via this approach on many occasions in the past. Last year in Cape Town, a return to a more pragmatic game plan resulted in one of South Africa's best performances of the season.
"They will need to emulate the British & Irish Lions and, indeed, the great Bok teams of yesteryear in order to keep the scoreline at the Cake Tin in check. A reckless and error-strewn performance may lead to another big defeat and serve as a further setback in the grand scheme of things," he said.
?? This is what's on the line this weekend - the Freedom Cup.

??? Limited tickets still available ?? https://t.co/WTcp2Q9Jqo pic.twitter.com/k95QN3kJvn— All Blacks (@AllBlacks) September 12, 2018