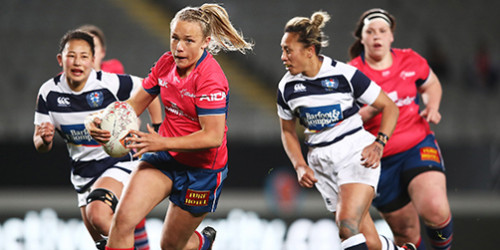 Five years ago, heavens, even two years ago, this never would have happened. Even now, it could sound gimmicky; a flashy marketing ploy in a time when organisations need to be seen to be supporting women.
---
QUICK TAP: DR FARAH PALMER WINS WOMEN OF INFLUENCE AWARD
---
But this doesn't feel like lip service. Behind the scenes there is substance.

Just this week it was announced that the playing numbers among girls and women continue to rise, Dr Farah Palmer was recognised at the women of influence awards, Selica Winiata became the first woman to score 100 first class tries and members of the Black Ferns have again taken 'Nancy' on an outing, this time touring around Northland.

The development work at some of the provincial unions is nothing short of outstanding, and they will reap huge benefits from the hours being put in to Ripper competitions, coaching clinics and club based player recruitment drives.
There is a group of players at high performance level, men and women, who are politically, socially and culturally aware, and who are encouraged to proudly support causes.
There are young men with huge profiles who are championing the women's game, and on a personal note, I've received great encouragement from some in the role I have. It's hugely heartening to think some of these players will be among the next generation of administrators, and they, like the boys at Ripper events or High School sevens tournaments won't be blinded by gender.
As we continue to celebrate #WahineRound, we look back at the historic occasion when the first #BlackFerns received their cap. pic.twitter.com/PW2KGXYUKV— Black Ferns (@BlackFerns) September 18, 2018
There is however some way to go. The lack of coaching opportunities for women across all sport, bar netball, is a major black mark, and while strides have been made at governance and senior management level, the pace of progress is still a little slow.
As was stated at a recent Woman in Sport Leadership forum; there are plenty of board-ready women, but still not enough women ready boards.

There are many attitudes that still to need to change and some that never will. There are days when it feels like we're back at square one and times when things occur that are downright wrong. Some days, it feels like a battle and it's tiring. But other days you have to choose to celebrate the victories, enjoy success, revel in the steps taken and be proud of what has been achieved by and for, women and men. Some days you put on purple and simply enjoy the game.

DOUBLE HEADER | @BOPRugby will host a #Mitre10Cup and #FarahPalmerCup double header on Friday night. Make sure you get down and show your support. ??

?? Both games are live on @skysportnz #WahineRound #Ours pic.twitter.com/4DE5JzHby5— Mitre 10 Cup (@Mitre10Cup) September 19, 2018