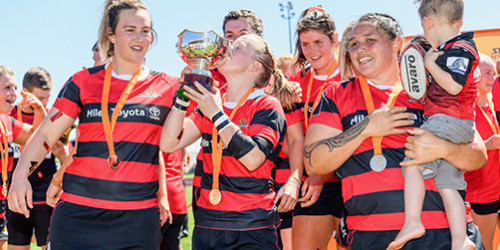 This is not to minimise the efforts of others in a season of highlights, change, development and learning but Canterbury were simply a cut above in winning the Farah Palmer Cup.
---
Far from the biggest side, Canterbury was fit, smart, versatile and well-balanced. The likes of Forne Burkin and Georgia Ponsonby came into the squad this year from other unions and slotted in seamlessly, adding to an already impressive level of depth.

While winning always makes it easier to maintain a positive working environment, this team oozed confidence and enjoyment, and it showed in how they expressed themselves on the field.

And then there was Cocksedge. Playing with the exuberance of a kid, but with the skill, nous and fortitude that makes her one of the best in the world, Cocksedge's ability to dictate a game and control the tempo is second to none. Whether she wins the Fa'amausili medal at the end of the year is by-the-by; she should, but the nature of a weekly 3-2-1 points format can sometimes work against a dominant team with so many standout players. We all know and Canterbury knows that she is a special player.

The success of Canterbury and the form of Counties Manukau and Waikato in particular has created interesting reaction to the Black Ferns squad named for the Northern Tour next month, with some consternation over the number of Auckland players selected in comparison to those from the higher achieving teams. The squad is basically that which handily won two tests against Australia, and is full of tried and tested international players who will understand the requirements of taking on such an historic tour.
As mentioned in previous columns, the gap between the FPC and international game is significant, and selectors tend to watch the performance of an individual during a match, the minute skills, work rate and technique rather than where a team like Auckland for example sits on the ladder. You wouldn't drop Rieko Ioane based solely on the Blues under performance.

But the fact these selections are garnering debate and discussion on social media is a positive indication that the Farah Palmer Cup is starting to gain traction in public minds. It's also why, even though the season is over, the work can't stop. Everyone involved in the FPC from players, coaches, union staff, broadcasters and commentators simply can't think it's now 'job done' and forget about it until next July.
If the competition is to improve and grow, if some of the issues which have cropped up this year are to be figured out and if players are to force the hand of the national selectors, the work needs to start again straight away. You know it will have in Canterbury.

NEWS | #BlackFerns7s dominate sevens nominations at #WorldRugbyAwards.

READ ?? https://t.co/oRK1NEAaDw pic.twitter.com/kgCZOVY0Zx— Black Ferns (@BlackFerns) October 22, 2018