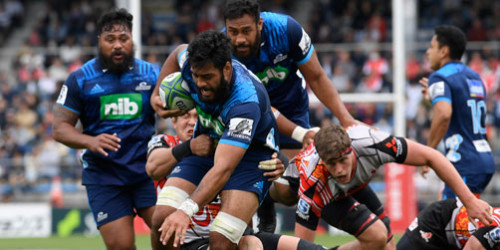 It wasn't a game to set the turnstiles spinning, but it was an applied effort that brought suitable reward after they had gone to the half-time break down 5-10.
But showing much more appreciation of retaining ball and building pressure through their more savvy tight forwards, the Blues did enough to claim a comfortable win which left the Sunwolves firmly at the bottom of the points table.
Lock Patrick Tuipulotu marked his 50th game for the Blues with a strong display notwithstanding his second minute visit to the sin-bin for a no-arms tackle which was also late while No.8 Akira Ioane scored a dynamic try to continue his remarkable run of scoring this season.
There was also better continuity at the base of the scrum-ruck where halfback Jonathan Ruru gave another fine display, quickly despatching quality ball which made life more comfortable for first five-eighths Stephen Perofeta who continued to grow in stature.
Wing Jordan Hyland made his mark when being called up as injury cover with two good tries, the first a fine effort to break tackles.
The bench also provided good impetus with Dalton Papali'i also impressive when breaking six tackles to score a key try.
The Sunwolves were all hustle and bustle and when home first five-eighths Yo Tamura landed the penalty goal which seemed to lift them even higher.
Determined Blues defence was needed to restrain the momentum the Sunwolves unleashed and while they conceded no more points in Tuipulotu's absence, they were rocked in the 22nd minute after a strong midfield drive by lock Grant Hattingh and prop Craig Millar.
From their set-up work quick ball was produced and replacement five-eighths Hayden Parker was able to wend his way through forward traffic on the blindside to create space on the left where centre Timothy Lafaele raced down the sideline for the opening try.
Lifting their tempo to where they felt more comfortable, the Blues had a better second quarter and some concerted work by the tight forwards set up a platform which resulted in ball being well used by Perofeta who threw a long pass across the face of the home defence to find Hyland.
He showed impressive strength to beat tackles and get over for the Blues opening try.
However, with more play deep in the Sunwolves 22m area the Blues were unable to get over the line and went to the break 5-10 down.
An early second half break by second five-eighths Rieko Ioane and Hyland took play up to the Sunwolves line but the Blues were unable to make the most of it.
But on the 50-minute mark good build-up work by props Ofa Tu'ungafasi and Pauliasi Manu set up good ball and on the blindside fullback Michael Collins got a long ball to No.8 Akira Ioane who wasted no time in beating two defenders as he applied the speed from his standing start. That pushed him clear and he had a straight run in for the try.
Five minutes later more power in setting up the breakdown provided more good ball and when newcomer at centre Orbyn Leger had set up a midfield ruck, more play saw flanker Kara Pryor, who was again in the thick of the defensive action, threw a long pass for Papali'i who marked his arrival on the field with a powerful run which broke six tackles on his run to the goalline.
Leger was back in the action moments later, in a defensive action with his shirt-tail tackle stopping a strong Sunwolves surge which resulted in halfback Ruru getting back to effect a vital intercept to halt the home side's progress.
While Akira Ioane was denied a second try with seven minutes remaining, following useful ground gained as a result of Sunwolves indiscipline, a feature of the second half, they had reward moments later when more applied barging at the line by the big men saw the ball cleared for Rieko Ioane to fire another long ball for Hyland to run down the sideline for his second try.
Scorers: Sunwolves 10 (Timothy Lafaele tries; Yo Tamura pen; Hayden Parker con) Blues 24 (Jordan Hyland 2, Akira Ioane, Dalton Papali'i tries; Stephen Perofeta 2 con). HT: 10-5