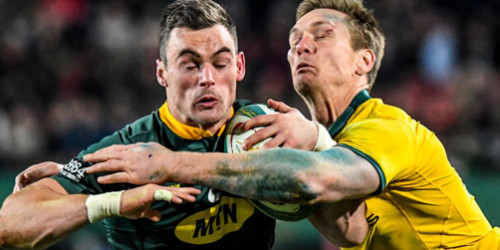 The Test has been something of a holy grail for the Springboks ahead of the Rugby World Cup and coach Rassie Erasmus showed his intent by sending an advance guard of 13 players last week to prepare for the game.
"We've done it like this – sending players ahead of time – because of the short turnaround between games," Erasmus told South African media.
"Otherwise we probably wouldn't stand a chance. We said from the start that our main goal in Wellington was to win the Test match."
In choosing his side to play Australia, and win 35-17, Erasmus had used overseas-based players and emerging locals to do the job. Experimentation had been an important component of that effort.
But the experimentation would not be so much of a factor in Wellington.
"There have been a couple of points in it over the past three games.
"We came close at Newlands in 2017. We were lucky to beat them in Wellington last year, where it was very close, and then they came back to beat us at the end in Pretoria.
"We're playing them at the same ground as last year. It's a massive one for them at home," Erasmus said.
"If you look at how they've managed their squad, they also kept a few guys back while the rest of the team travelled to Argentina. So they will be fresh and they will be ready for a big performance. We know what is waiting for us this weekend," he said.
However, All Blacks coach Steve Hansen said revenge for last year's loss in Wellilngton was not on the All Blacks' mind. They didn't deal in revenge, he said, and they were preparing as always for a tough contest against a rival they very much respected.
Erasmus said while the players who made up the advance guard to Wellington would not be as 'battle hardened' as the group who played Australia, the thinking was that it was best to send them to New Zealand to acclimatise rather than playing Australia and then forcing them to cope with jet lag.
While pleased with the win over Australia Erasmus said it had not been close to a world-class performance and it would not have been good enough for them to reach the World Cup playoffs.
"What stood out was the individuals who grabbed their chance and stuck up their hands," he said.
That had forced him to rethink his plans a little for the All Blacks, he said.