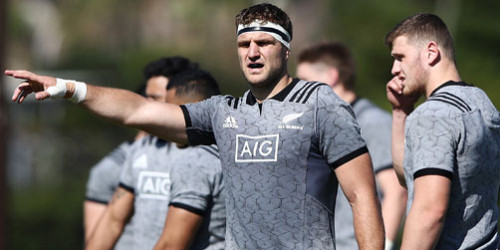 That was also the case in Lyon where his equally inexperienced All Blacks side took a 28-23 win.
---
Japan represent a different challenge with the side making its way in the international game, especially with a good showing in next year's Rugby World Cup on their agenda. Success against an All Blacks team would be a big boost ahead of that tournament.
Having played three official Tests previously against the All Blacks, Japan have been well beaten in the past, especially in the 145-17 record win for the All Blacks at the 1995 Rugby World Cup.
The game is New Zealand's first appearance at Ajinomoto Stadium, while Japan have played there four times previously without success.
Whitelock, who was celebrating five years since his first selection for the All Blacks said he was going to enjoy the occasion of captaining the side because it all went very fast.
The involvement of so many new players had brought plenty of energy to training so the excitement levels were high ahead of the game, he said.
But there was also some experience in the side and he said he would be looking to those drivers to keep him advised during the game.
Since learning he would be captain he had been working on getting his own game sorted first and then he looked to help out the newer players where he could to help the team come together.
Having played under the Japan coaches Jamie Joseph and Tony Brown when they were associated with his first few years in Super Rugby with the Highlanders, Whitelock said he could see aspects of their game in the Japan approach, especially last weekend when the lost 28-31 to the World XV.
He felt the fast pace of the Japan game suited Joseph and Brown's coaching philosophies.
"They're high-skilled and they'll be running from all over the field with ball in hand, or ball to the foot. They won't die wondering," he said.
Given that Whitelock was one of the leading tacklers in Super Rugby this year, with 205 tackles, only South Africa's Franco Mostert (234) and Matt Todd (209) were ahead of him, he should be well equipped in the defence department where debut openside flanker Dalton Papali'i and returning blindside Vaea Fifita will be expected to provide consistent support in containing the anticipated Japanese running game.
?? EXCLUSIVE COLUMN | @ZinzanBrooke8 recalls his All Blacks debut, endorses the selection of Dalton Papalii and gives his score prediction for tonight's All Blacks v Japan Test.

READ ?? https://t.co/Bhv8Yz5zZ0#JAPvNZL pic.twitter.com/C2lHqFCSQ6— All Blacks (@AllBlacks) November 2, 2018