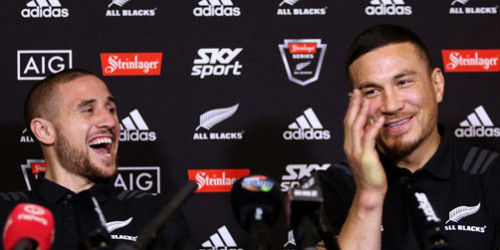 Williams said he was feeling good after a rigorous workout on Tuesday morning but added that he also had a tough workout before the second Test in Wellington with Kieran Read and had come through unscathed from that.
---
QUICK TAP: SPRINGBOKS ON THE RISE AHEAD OF RUGBY CHAMPIONSHIP
---
He was enjoying being back in the team environment and last week had been pleased to help the side prepare for the game.
"A lot of the times I'm in the driving seat so it was good just to show my love to the boys and really connect with them on and off the field and try to get them prepared as well as I could."
He said he was surprised at the speed of his recovery from minor knee surgery.
"I thought I wouldn't be playing for four to six weeks so it all happened kind of quickly. I was in holiday mode," he said.
But a meeting with the coaching and medical staff said his operation had been a success and a lot better than expected and then Steve Hansen asked if he was a chance to play in the third Test or available for selection and the doctor said yes but he would have to come into the team camp.
Hansen looked at him and said, "You're in camp. I rang my wife and told her, she was a little bit upset because we had planned things to do."
Williams added that having worked out with Read before the Test that he looked ready to play but he was a player who stuck to his processes and ticking the right boxes. However, they were keen to see him back because he gave the side so much confidence when he was playing.
Halfback TJ Perenara talked about Hurricanes teammate Julian Savea's announcement that he would be moving to France to play for Toulon.
Perenara said Savea would probably be regarded as one of the best wings to have played the game and with that in mind he had done his family, his friends, his province, club and country proud in tall the jerseys he's worn and performances he had put in.
"I'm gutted to see my mate go, not only on a professional level but on a personal level. He's someone that I'm very close with and that I've built a good bond with over our career."
It wouldn't have been an easy decision for him to make but he was proud he had made it and he was sure he would continue to be one of the best wings in the world, he said.
Everyone knew he was gifted with the ability to not only go round opponents but through them as well.
"But what set him apart was the work he did off the field to help him get in those positions on the field to show that he was comfortable to the perform the way he performed," Perenara said.
Williams said Savea's quarterfinal display against France at the 2015 World Cup stood out in his and everyone else's mind.
"For me, when I think of Jules I think of a very talented player, proud that he represented us as Samoans the way he did and also off the field he was just a great man. I'm gutted that he's leaving but he's doing what's best for himself and his family."
Black Ferns Captain Fiao'o Faamausili has chosen her #AllBlacks Starting XV for the third and final Test against France! Can you do better?

Pick yours before midnight on the 20th to be in to WIN tickets to the last Test.

PICK YOURS NOW! https://t.co/hQJBvQ5IcH#PickYourXV pic.twitter.com/HjkW156Iyr— All Blacks (@AllBlacks) June 19, 2018