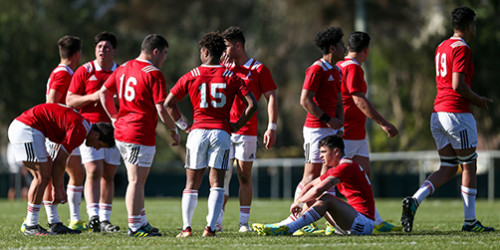 New Zealand Schools' again put on a dominant display, with a comprehensive win over Australian Schools' Barbarians 55 – 31.
New Zealand Schools' crossed the line nine times, with Gideon Wrampling and Blair Murray both scoring two tries a piece, while Zarn Sullivan and River Reihana shared kicking duties.
New Zealand Schools' 55 (Gideon Wrampling 2, Blair Murray 2, Tyrone Thompson, Sam Darry, Louie Chapman, Jacob Kneepkens, Tiaan Tauakipulu tries, Zarn Sullivan 3 con River Reihana 2 con)
Australian Schools' Barbarians 31
The New Zealand Barbarians' Schools team once again suffered a loss, after going 10-15 against Fiji Schools' in Porirua.
Fiji Schools' got out to an early 10-0 lead after a penalty and long range try, however New Zealand Barbarians Schools' managed to tie up the match after pressure from the forwards saw Mahonri Ngakura cross the line, before Caleb Cavubati also scored in the corner after scored in the corner after a line break from Lukas Halls.
Fiji pushed the score line out once again with an unconverted try, despite the best efforts of the Barbarians.
New Zealand Barbarians' Schools 10 (Mahonri Ngakura, Caleb Cavubati tries)
Fiji Schools' 15
The New Zealand Schools' team will play their last match against Australia Schools in Brisbane this Saturday 6 October, whilst the NZ Maori U18 will take on Fiji Schools - 2pm at Porirua Park, Wellington this Friday 5 October.