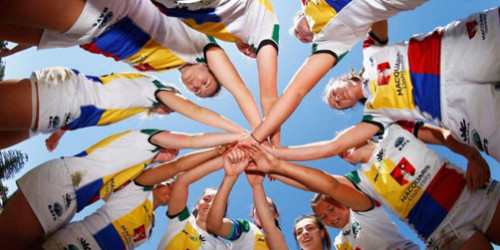 Women now make up more than a quarter of the total number of players globally with 581,000 new players last year.

Of the 9.6 million rugby players in 2018, 2.7 million were women, which is a 10 percent increase over 2017. On top of that interest in the women's game was reflected in a 37 percent increase in video views from female audiences.
Among advances put in place for the women's game were the introduction of an extra 17 female positions aimed at increasing the diversity of the World Rugby Council.
Ten global leadership development scholarships were appointed to maximise the rugby leadership potential of talented women working in the game while attention at regional level saw leadership forums held in countries as diverse as Botswana, Madrid and Bangkok.
A high performance coaching review was completed and produced recommendations for female coaches at the highest level.
UPDATE | The Black Ferns 7s will be looking to go one better in Sydney this weekend after finishing runners up at the 2018 #Sydney7s ??????

FULL STORY ?? https://t.co/dKUVxTUDA5 pic.twitter.com/D6zOwhgRkR— Black Ferns (@BlackFerns) January 30, 2019
The Women's Rugby World Cup, which will be played in New Zealand in 2021 – the first time it has been played in the southern hemisphere, was also remodelled to create a quarterfinal stage which will increase the tournament from 23 to 35 days while World Cup squads will be increased from 28 to 30 players with the aim of prioritising player welfare.
World Rugby chairman Bill Beaumont said: "We have seen phenomenal strides made in year one of the implementation of the women's action plan.
"We are wholly committed to driving gender balance and ensuring that women have equal opportunities in all areas of the game.
"As we move into year two, we are looking forward to working with our member unions and regional associations as we continue to implement and deliver on our strategic plan in fast-tracking the development of women in rugby."
World Rugby general manager Katie Sadleir said: "While we are moving in the right direction, we are determined to continue to push forward in delivering on our strategic objectives which will ultimately benefit the sport and put World Rugby at the fore as a global leader in sport as a game for all."
MINI ON THE MIC ??? We can't wait to have @nizzlewilliams "aunty's brother's sister's cousin's pet dog" in the stands watching the #BlackFerns7s play this weekend ??#Sydney7s pic.twitter.com/AfpWzLtbKP— Black Ferns (@BlackFerns) January 31, 2019