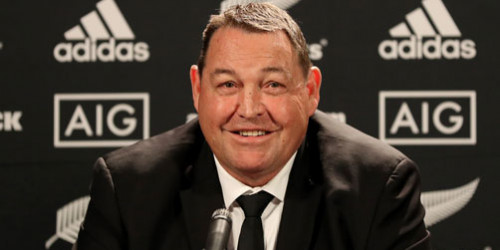 It was not unfamiliar territory for Hansen, who selected Wales for the 2003 World Cup, and was then involved with All Blacks selection in 2007, 2011 and 2015 before completing his final selection on Wednesday. He is stepping down after the 2019 tournament in Japan.
---
---
Hansen acknowledged how hard it had been on those players who didn't make the final 31. It was a difficult time in their careers and in 2019 it wasn't because they weren't good enough, it was because there was so much talent on offer.
But then he put the pending campaign into perspective.
Having been the first team to win consecutive World Cups after 2011 in 2015, the All Blacks would be attempting to be the first to win three World Cups in a row.
It was going to be 'an awesome challenge'.
"We know it is going to be hard, we know it is going to be tough and we know that we're going to have to earn the right to do it. In saying that, anything that is worth doing has to have those components in it. There will be a massive amount of scrutiny, expectation and because of that, pressure.
"One thing we are looking forward to though, is taking that pressure head on and enjoying everything that brings with it. We have been fortunate enough to live in that environment with the All Blacks where that expectation is with us all the time. Not only are we expected to win Test matches every time we play but by big margins.
"And we believe that pressure will be something that will give us an advantage," he said.
Hansen said it appeared the World Cup was going to be the most fiercely contested Rugby World Cup. A number of teams would be turning up in Japan thinking they were going to win.

ICYMI | Here is your All Blacks squad for the 2019 Rugby World Cup.

FULL STORY ?? https://t.co/YljUMt2rda

Leave your messages of support for the boys below ???? pic.twitter.com/9MPg5HQXG0— All Blacks (@AllBlacks) August 28, 2019
"That's going to create some expectations on them too and with that expectation - pressure. It will be interesting to see who can cope with it and who can't because the tournament will demand that they do.
"This is where I think we have a small advantage because as I said, we live there all the time. For some of these teams it is going to be the first time they turn up and have to feel that pressure. And it can be overwhelming when you haven't had it before," he said.
The All Blacks would look ahead with a lot of excitement while understanding there were no guarantees in sport but when you had the talent, work ethic and fortitude you gave yourself a chance, he said.
Speaking to the omissions, Hansen said Owen Franks had been a great All Black with more than 100 Tests but the selectors believed the demand was for big, mobile props and the players chosen were better equipped than he was.
Hansen said he had a good phone call from Liam Squire and they had discussed things and while he was playing well and enjoying his rugby with Tasman they had agreed at the end of the conversation that he would make himself available if he was required as a replacement during the World Cup.
The midfield was another area where five didn't fit into the four positions available and whoever missed out was going to be disappointed.
Ryan Crotty was included having come back from injury, he was experienced, a member of the team leadership group and was able to play both positions and that had given him the edge in selection.


?? WATCH | Steve Hansen gives an explanation on some of the selections in the All Blacks Rugby World Cup squad.

FULL PRESS CONFERENCE ?? https://t.co/wgvvgYVf1K pic.twitter.com/8y0muQeGkE— All Blacks (@AllBlacks) August 28, 2019
Hansen said lock Brodie Retallick's shoulder was still sore and he was unlikely to play in any of the All Blacks' pool games.
"We're reasonably sure that no disrespect to anyone else in our pool, that we should make the quarterfinals and from there we don't know but we have rolled the dice to take him for that quarterfinal and we will see what happens from there," he said.
Luke Jacobson, while inexperienced, had good leadership skills with high defensive capabilities and good ball carrying. He was a smart rugby player, Hansen said.
The choice of a fourth lock came down to Jackson Hemopo, Vaea Fifita and Patrick Tuipulotu. The Aucklander had performed well in the Bledisloe Cup Test against Australia in Auckland and in considering the others for the blindside flank they thought Jacobson offered more in the role.
While Richie Mo'unga's shoulder injury was good, Hansen wouldn't say if he would play against Tonga on Saturday week in Hamilton. If it was the World Cup final he would play though, he said.
Hansen said the third first five-eighths option would be covered by Jordie Barrett, TJ Perenara and Crotty, who had all played the position before.

?? SQUAD NAMING | Here it is, your All Blacks squad for #RWC2019.

FULL SQUAD ?? https://t.co/YljUMt2rda#BACKBLACK pic.twitter.com/PRvFfwPqZU— All Blacks (@AllBlacks) August 28, 2019