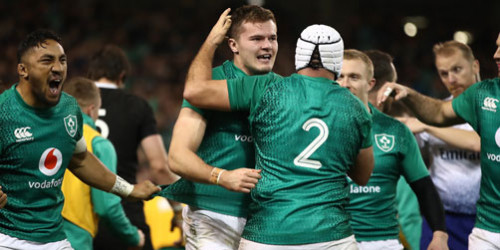 In his Times column he said the 'excess of ecstasy' in Dublin on Saturday night was a reminder that the All Blacks were still the team to beat, and that was especially the case at World Cup time.
---
Along with Ireland coach Joe Schmidt, he said the Lansdowne Road crowd had been a big factor in motivating the home team, but recreating that noise wouldn't be possible in Yokohama next year.
There was also the fact, as Schmidt pointed out, that the All Blacks had been around the world a few times recently.
"Any analysis of New Zealand's performances (as opposed to results) indicates a tail off towards the end of the calendar year.
"With a truncated season before their bid for a third successive World Cup victory, it is madness to think that any side but New Zealand are the ones to beat. Schmidt is smart, he knows that," Barnes said.
By the time the World Cup came around, Ireland would lack the advantages they enjoyed on Saturday, and even in Chicago in 2016 when they achieved their first win over the All Blacks.
"A World Cup is another matter. Under Schmidt the attention to detail will be assiduous but this is a rugby country without any former pedigree in the competition. They have a history of disappointment that they must overcome.
"In contrast, New Zealand have won three titles, including the past two. [Steve] Hansen knows exactly what it takes to win. To bring down Hansen's side, the rugby world needs to stop using the stack full of superlatives when it comes to beating them," he said.
Describing wins as 'epic' or 'heroic' only added to the lustre of the legends surrounding New Zealand and rugby.
"Myth fuels the fundamental confidence with which New Zealand take the field. The haka is their own ferocious fiefdom, used to psych themselves into a state of preparation before kick-off. There is the rugby world and there is New Zealand; or rather the All Blacks," he said.
But in spite of that the losses to South Africa and Ireland in 2018 had 'punctured the air of indestructibility' around the All Blacks, he said.
What Ireland's win did show ahead of the World Cup was that if the rest of the rugby world started to see the All Blacks as beatable it would deny them of the mental edge they enjoy.
"An edge that enables them to have that deep gut belief that it is their right to win as much as opponents see any Kiwi defeat as something epic, something that is a once-in-a-lifetime moment," he said.
ICYMI | The Maori All Blacks v Chile replay is now available to watch in selected countries for free.

WATCH HERE ?? https://t.co/SekDP2kxx9 pic.twitter.com/Y3rPROjwYd— All Blacks (@AllBlacks) November 19, 2018