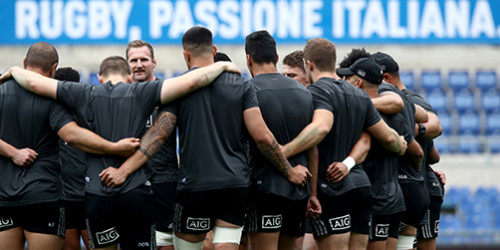 Knowing the Irish, I always thought that was going to be some Test match. What was critical was that 16th man I had talked about before – the crowd at Aviva. They wanted to do it for Ireland. What better way to cement that credibility than knocking off the best team in the world. They did it with style too, staying in the fight for the full 80 minutes, which you have to do to beat the All Blacks.
---
QUICK TAP: ALL BLACKS vs ITALY TEST PREVIEW
---
I wouldn't read too much into this result as a Rugby World Cup form guide. It was good for the game, but we are still 10 months away. That's not a cynical comment. I just think they did us a real favour. The All Blacks did not play that badly. There were periods in that second spell when we were banging on the door but just could not finish it.
That Jacob Stockdale try was almost a repeat of what the All Blacks did to South Africa, with the audacious try through Rieko Ioane/Beauden Barrett after the lineout.
It wasn't Kieran Read's best performance but some of the criticism was harsh. He led the team well, but didn't quite have his own game on song. You have glitches at times, and he just stepped on a grenade that day.
In Rome this weekend I am very much anticipating the All Blacks to bounce back and put the Italians to the sword. The Azzurri are very passionate and they were pretty competitive against Australia last weekend, but at the end of the day you have to execute.
WATCH | ?? amazing tries, but which one will be the SKY Fan's Try of the Year? Have your say and vote below ????????????https://t.co/3TzpJVWYaJ pic.twitter.com/5oVfwRrxZu— All Blacks (@AllBlacks) November 23, 2018
So I think the All Blacks will be quite calculated, even though they have made several changes. I'll be interested to see how Vaea Fifita goes in the No 6 jersey. Big chance for him. I'm a Richie Mo'unga fan, and he is coming off the bench. Beauden Barrett is running the cutter again and fair enough.
I'm not hopeful for Italy and I reckon the All Blacks will put at least 60 on them. They will want to finish this tour on a high.
Looking at the season as a whole, the All Blacks have had two defeats and two other very close wins. They have had the wood on Australia, France and Argentina and have struggled with South Africa, England and Ireland. But you have to look at the positives. Those two losses were by very narrow margins. I'm not too concerned about where the All Blacks are at just under a year out from Rugby World Cup. Bring on 2019.
Jayden Hayward once played his rugby in New Zealand, now he's facing off against Damian McKenzie in an international test match. Who else can't wait for this match-up???#ITAvNZL ???????? pic.twitter.com/xdS27LT1Xs— All Blacks (@AllBlacks) November 23, 2018