The World Sevens Series concludes in Los Angeles, the last tournament before the World Cup in Cape Town in September.

Baker's introduction to the All Blacks Sevens in 2008 provided little hint he would become a respected veteran.

"It was in Dubai. I got injured in the warm up. I rolled an ankle after being bowled over by Nafi Tuitavake," Baker laughed.
"In 2009 Zar Lawrence was holding down my position when he fell over and I got an opportunity against South Africa in London. I love the London Sevens. In those days they had less rules and the fans had more fun than they do today."

Kurt Baker

In 2010 he secured a permanent position in the New Zealand roster. He was a standout at the Hong Kong Sevens that year, finishing top individual points scorer, scoring four tries against Fiji in the semifinal and two against Samoa in the Cup final.

Later that year he helped New Zealand win a gold medal at the Delhi Commonwealth Games. He scored a try in the 24-17 victory over Australia in the final.

In the last decade New Zealand have won the World Seven Series title five times. Additionally, Baker won another gold medal at the 2018 Commonwealth Games and the World Cup in 2013 and 2018.

At the 2012 South African Sevens in Port Elizabeth he scored a hat-trick in 47-12 demolition of France in the final.

At the same event in 2019, New Zealand edged South Africa 7-5 in front of a fervent, sellout, crowd in Cape Town, a favourite victory for Baker.

"Pinnacle wins are the ones that stand out. The 2018 season was epic. We won the Comm Games on the Gold Coast and then the World Cup in San Francisco.

"I've never been one to chase a number but now I'm there it's pretty cool to see the amazing past and present players who are in the group. They're not just players but personalities who go deep for this team and the jersey.

"What keeps me going? It's the people. There's not a day that goes by that I'm not excited to come to training. We get paid to be fit, see how far we can push our bodies, and try to win."
New Zealand have only competed in four of the eight World Series tournaments in 2021-22 due to Covid restrictions. Their best performances were in Singapore and London where they lost Cup finals to Fiji and Australia respectively. At the recent Commonwealth Games in Birmingham, New Zealand won the bronze medal, pipped by Fiji in the Cup semi-finals.

"We've had a lot of changes over the past couple of years but we've built a squad that's pretty resilient so hopefully we can put it together. We're not winning, which is frustrating but we're not that far off," Baker observed of recent form.

Lewis Ormond played a dozen tournaments from 2015 to 2017. He's back for the LA Sevens after stints in France and Southland.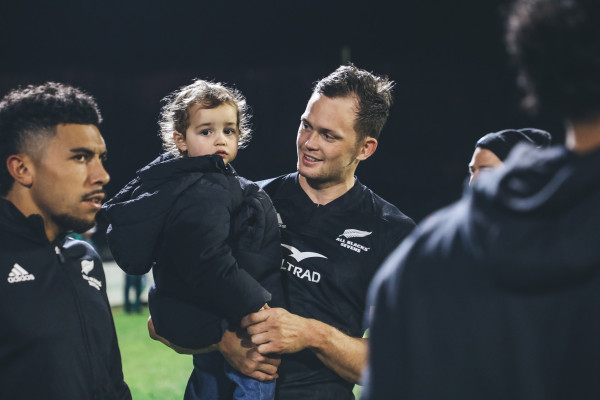 "I thought I'd had my time in Sevens,'' Ormond admitted.

"I've been given a lifeline. I was talking to Sam Dickson and Joe Webber who said we were down in numbers so I made myself available.

"It means a lot to be back. I felt when I left Sevens I was a boy. I've grown up a lot. I have a family, a wife and I want to leave the jersey in a better place than when I last had it."

Two highlights Ormond enjoyed in a New Zealand jersey were in 2016. He scored the winning try in the inaugural Vancouver Sevens final. New Zealand beat South Africa 19-14.
At the Wellington Sevens, New Zealand rallied from 7-21 down to beat South Africa 24-21. Joe Webber scored the winning try on the hooter after present All Black centre Reiko Ioane had scored twice. Sonny Bill Williams also featured.

"I came in towards the end of the Titch (Gordon Tietjens) era. Training is a bit different nowadays, not so much of a slog, still hard, but Clark (Clark Laidlaw) is different."
Baker is a proven winner. In fifteens he helped Taranaki win the NPC in 2014 and the Highlanders Super Rugby in 2015. In 2020, he was with Hawke's Bay when they captured the Ranfurly Shield and won the Championship.

Baker has scored 128 tries in 215 matches on the World Sevens Series tour.
Most Tournaments For New Zealand
Tim Miklelson (99)
DJ Forbes (94)
Lote Raikabula (70)
Sam Dickson (64)
Tomasi Cama (63)
Eric Rush (62)
Scott Curry (61)
Los Angeles Sevens Schedule (NZT)
Sunday 28 August
4.42am v Canada
7.48am v USA
10.59am v South Africa