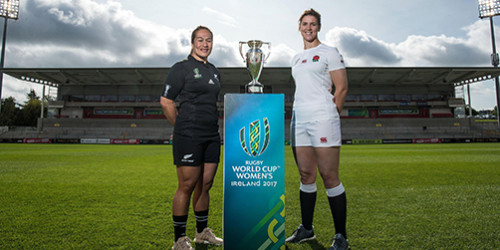 Kick off is scheduled for 7.45pm Saturday 26th August local time (6.45am Sunday 27th August NZT)
---
QUICK TAP: #CUPDATE EPISODE 5 WITH CARLA HOHEPA
---
The team is (number of caps in brackets):
1. Toka Natua (15)
2. Fiao'o Faamausili - captain (51)
3. Aldora Itunu (14)
4. Eloise Blackwell (31)
5. Charmaine Smith (15)
6. Charmaine McMenamin (13)
7. Sarah Goss (9)
8. Aroha Savage (27)
9. Kendra Cocksedge (41)
10. Victoria Subritzky-Nafatali (18)
11. Renee Wickliffe (29)
12. Kelly Brazier (36)
13. Stacey Waaka (10)
14. Portia Woodman (15)
15. Selica Winiata (30)
16. Te Kura Ngata-Aerengamate (19)
17. Sosoli Talawadua (7)
18. Aleisha Nelson (25)
19. Rebecca Wood (6)
20. Lesley Ketu (8)
21. Kristina Sue (9)
22. Theresa Fitzpatrick (6)
23. Carla Hohepa (18)

Head Coach Glenn Moore said his team was excited and ready to play.
"A World Cup Final is what we've all had our sights on for a long time. Everything we've done in the past two years has led to this.
"We feel comfortable that we've done the work and we've selected a very good side. We also have a strong bench who will make an impact."
Moore has made one change to the side who beat USA 45-12 in their semi-final on Tuesday (local time). Halfback Kristina Sue has been named, in a return to more traditional five forwards and three backs in the reserves.
"The team has been working hard on and off the field to make sure we have absolute clarity.
"We've made major improvements since the June Series and dialled it up even more during this tournament," he said.

1? more sleep until the Rugby World Cup final!

???? v ??????????????
? 6.45am NZT Sunday 27th August
?? @skysportnz Channel 52#NZLvENG #WRWC2017 pic.twitter.com/DUhH1bqbE3— Black Ferns (@BlackFerns) August 25, 2017
Around 18,000 fans are expected to turn out for the Final and among them will be a contingent of vocal New Zealand fans who have been following the Black Ferns.
"The support we've had from home and all around the world has been outstanding, given we are so far from home. It really lifts the players.
"You're going to see the two best teams in the world really go at it.
"I'm excited to see our team play and I am so proud of them."

2017 Women's Rugby World Cup Final in Belfast
The 2017 Women's Rugby World Cup Final will be broadcast on SKY SPORT 2.
Black Ferns v England, Sunday, 27 August - kickoff at 6.45am (NZT)
Delayed broadcast on Prime on Sunday, 27 August from 8.05am (NZT).
FLASHBACK FRIDAY: We take you back to 2006 when the #BlackFerns lifted their third Rugby World Cup trophy with a 25 - 17 win over England. pic.twitter.com/O47o6a9oGF— Black Ferns (@BlackFerns) August 25, 2017